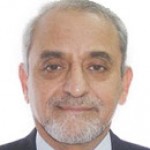 Sajjad Ashraf
Former Adjunct Professor, National University of Singapore
Sajjad Ashraf was an adjunct professor at the Lee Kuan Yew School of Public Policy, National University of Singpore from 2009 to 2017. He was a member of Pakistan Foreign Service from 1973 to 2008.
Jul 02, 2020

Central Asia, which is abundant with minerals and holds strong economic promise, is caught in a growing power rivalry between China and the United States.

May 17, 2020

The world needs global leadership to overcome COVID-19. But, the consequences of America's discomfort at China's rise and its attempts to contain the virus will damage the international community.

Nov 09, 2018

Following years of disputes and suspicion, China and ASEAN recently completed their first landmark maritime field training exercises. The fact that they took place is a testimony to the broader changes taking place in China's relations with the ASEAN.

Mar 02, 2018

The China-Pakistan Economic Corridor (CPEC), a $62 billion China-funded 'flagship project' within China's Belt and Road Initiative (BRI), is fast heading towards the closure of deals on 'early harvest' projects. With five energy projects commissioned and several more on course, these should help lift Pakistan's economic output.

Sep 14, 2017

The U.S. may be the strongest state militarily, but it needs regional players like China, Iran, Russia and Pakistan to make success of its policy choices on Afghanistan. Operationally it needs to rely on Pakistani ports and road networks to resupply American troops in Afghanistan.

May 18, 2017

Pakistan's deep-sea port Gwadar, which the Chinese built and are now operating under a 40-year agreement, is a key part of China's Belt and Road Initiative. The U.S. and India are looking at the Chinese initiative with skepticism, believing that the twin initiatives are meant more to secure China's geo-strategic aims.

Jan 21, 2017

The CPEC was expected to bring various units of Pakistan together in an integrated economic and communication framework but has instead fanned provincialism and discord. Moreover, senior economists in Pakistan are now increasingly voicing their concern over the terms of financing from China, which is mostly shrouded in mystery.

Dec 14, 2016

President-elect Donald Trump's announcement that the United States will quit the Trans-Pacific Partnership kills the stillborn deal. For the countries of Southeast Asia who joined this U.S. led pact, it is a moment of reflection over their policy choices, making them seek accommodation with a more certain China rather than a wavering U.S.

Nov 18, 2016

China and Pakistan are forming an ""iron friendship" through the China-Pakistan Economic Corridor (CPEC), and it is becoming widely influential in the region. Although negotiations with the Pakistani government have been effectively turned over to the military, Pakistan and China hope to develop, the coastline, particularly port and naval cities like Gwadar and Omara. Pakistan has long eyed developing Gwadar as a bridgehead for commercial activity, and the robust military relationship between China and Pakistan and the unfolding strategic power play in the Indian Ocean add a huge security dimension to the CPEC.

Sep 05, 2016

While the U.S. calls for respect of the given ruling under the Law of the Sea Convention, of which the U.S. is not a signatory, none of the predicted responses from China and the Philippines have come true. On the contrary, both have opted for 'strategic restraint,' choosing to use dialogue in order to find common ground.