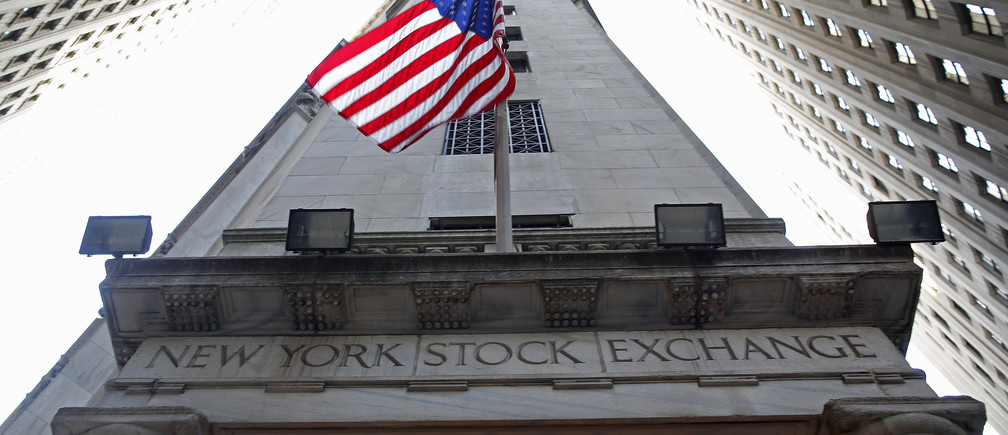 (Image: REUTERS/Chip East)
In early 2018, United States President Donald Trump announced generous tax cuts for American companies and individuals. The corporate tax rate was lowered to 21 percent from a high of 35 percent, and individual income tax rates were also reduced, with the wealthy and middle class as the biggest beneficiaries. In addition, as part of his efforts to keep his election promises, Trump relaxed regulations on Wall Street financial institutions. All these measures gave a strong boost to business investment and personal consumption expenditures.
Meanwhile, American GDP growth accelerated in the second quarter of 2018. Specifically, the economy grew by 2.2, 4.2, 3.5 and 2.2 percent in 2018 on a quarterly basis, pointing to strong signs of recovery. Overall, GDP increased by 2.9 percent in 2018, notably higher than in 2017 (2.3 percent) and the highest in the 12 years since the 2007 subprime mortgage crisis. That may explain why in the United Nations General Assembly in the fall of 2018, President Trump claimed that "my administration has accomplished more than almost any administration in the history of our country," which became a matter of derision worldwide.
The effect of the massive tax cuts, which amounted to $1.5 trillion dollars, lasted until the first quarter of 2019. Then the American economy continued a downward trend: GDP growth eased from 3.1 percent in Q1 to 2.0 percent in Q2 and then to 1.9 percent in Q3.
In addition, the Federal Reserve, National Association for Business Economics and major international economic organizations predicted a continued American economic slowdown for 2019 and 2020. On Sept. 18, 2019, the Fed expected the economy to grow 2.2 percent in 2019 and 2.0 percent in 2020. On Nov. 7, the National Association for Business Economics forecast that American GDP growth would slow to 2.3 percent in 2019 and then to 1.8 percent in 2020.
On June 4, the World Bank said U.S. growth would slow to 2.5 percent in 2019, and further slip to 1.7 percent in 2020 and 1.6 percent in 2021. On Sept. 19, the IMF projected modest 2.4 percent growth for the United States in 2019 and 2.0 percent in 2020. The OECD predictions released on Oct. 15 were in line with those of the IMF.
Surging fiscal deficit and enormous government debt impose a huge strain on economic growth.
Since taking office, Trump has been obsessed with deficit financing, thus dramatically expanding the fiscal deficit. In 2017 and 2018, the budget shortfall rose to $666 billion and then $779 billion, accounting respectively for 3.5 percent and 3.9 percent of GDP. In 2019, the deficit increased by 26 percent to $984.4 billion, or 4.6 percent of GDP. Taken together, the fiscal deficit incurred in the three years since Trump's inauguration adds up to $2.43 trillion.
Meanwhile, there has been a sharp increase in the U.S. national debt. The debt was $19.97 trillion when Trump became president, and the figure had risen to $23.05 trillion by Nov. 19, 2019, or $71,200 per capita. The new debt level reflects a rise of about $3.08 trillion in the 34 months, or $1.17 trillion annually, since Trump took office in 2017. The heavy national debt means heavy debt service pressure: the American government needs to pay out a total of $1 billion in interest every day, and its interest payments will total $7 trillion in the next decade.
Trump's China trade war holds back the American economy.
On Nov. 13, 2019, a CNBC article said that shipping data indicate that U.S. losses from Trump's China trade war will never be recovered.
"U.S. exports to China from the bustling harbor of Los Angeles decreased for 12 consecutive months. It suffered a 19.1 percent drop in export volume from October 2018 to the same month in 2019. China's retaliatory tariffs hit 96.6 percent of the U.S. exports that passed through the L.A. port complex, with a price tag of $19.9 billion," it said.
"The list of losses is long and varied. The trade war has expanded beyond agriculture, which is $11 billion in the hole (and counting). … Before the trade war, U.S. LNG volume comprised 4.3 percent of Chinese imports, and China accounted for 16 percent trailing twelve-month basis (TTM) of U.S. LNG exports. In August 2019, China's LNG volume had slipped precipitously to 1 percent TTM. Crude oil has suffered a similar fate, accounting for 20 percent TTM of U.S. crude exports in January 2018 to just 1.2 percent TTM in August 2019."
In addition, it said: "According to the National Retail Federation, consumers and businesses have paid an additional $38 billion from the start of the trade war in February 2018 through September 2019."
When it comes to soybean exports, America sold 32.85 million metric tons, or 65 percent of its global exports, to China in 2017 in deals worth $14 billion. This proportion shows that China may have difficulty finding a replacement for U.S. soybeans on the world market. But in 2018, American exports to China were just 16.64 million tons, down by 49 percent.
In the high-tech sector, America's crackdowns have disrupted the international industrial value chain and hurt its own high-tech companies as well. Simply put, they have led to a lose-lose situation. On April 16, 2018, the U.S. government announced sanctions on ZTE Corp., the second-largest telecom equipment maker in China, imposing a seven-year ban on purchases of crucial American technology, including chips. The next day, shares of American chipmakers Qualcomm and Intel fell by about 9 percent; on the third day, Qualcomm announced a layoff of 1,500 employees.
On the fourth day, Qualcomm, Intel and Micron CEOs lobbied the White House to lift the ban because they could not figure out how to deal with their stockpile of chips worth $1 billion. Then President Trump came to realize that while the sanctions were targeted at ZTE, the effect was felt by American companies. After much negotiation, the U.S. government announced that it would permit chip exports to the Chinese company on June 1, effectively lifting the ban after one month and 14 days.
Then, on May 16, the Trump administration added China's Huawei Technologies to a trade blacklist, banning the company from buying parts and components from American companies without U.S. government approval. The next day, the chief executives of 11 American high-tech companies, including Quantum, Intel, Micron, Broadcom, Xilinx, Flextronics, Nvidia, Google and Microsoft, met with President Trump at the White House, asking for permission to supply their $11 billion worth of telecom equipment to the Chinese company to avoid huge financial losses.
Under strong pressure from these tech giants, Trump made a late-night announcement on May 19 giving Huawei a three-month reprieve. This extension was supposed to end on Aug. 19, but an additional 90 days were announced by U.S. Commerce Secretary Wilbur Ross, thanks to the advocacy of American businesses. Three months later, on Nov. 18, Ross announced another three-month extension, moving the deadline to Feb. 16, 2020.
The Huawei saga reveals that in a globalized world, no single country can impose sanctions on foreign companies without causing losses to its own. Again, it proves that a trade war produces no winners. No one can win 100 percent, because international economic and trade cooperation is built on mutual benefit and win-win results.
A significant decrease in foreign investment between 2017 and 2018 also dragged down the U.S. economy.
According to the UNCTAD, in its last two years the Obama administration beefed up efforts to draw foreign investment, increasing inflows from $467.6 billion in 2015 to $471.8 billion in 2016. But things have taken a dramatic turn since Trump took office: The influx of foreign investment dropped to $277.2 billion in 2017, down by 41 percent year on year, and then dropped again to $251.8 billion in 2018, or 9.0 percent year on year.
Simply put, there was a gap of $410.4 billion in the 2015-16 and 2017-18 periods.
The state of the American economy has global implications. Development relies on massive foreign investment, which also contributes to the status of the dollar as the world's currency. Given this fact, a significant drop in foreign investment is definitely bad news for the American economy.
The next presidential election will take place on Nov. 3, 2020, which is less than a year away. In the face of the economic slowdown, President Trump seems to have no other effective measures at his disposal but to pressure the Fed to reduce interest rates and increase its balance sheet.
In mid-2019, he introduced a tax-cut proposal dubbed Tax Cut 2.0. The goal was to reduce income tax for middle earners with an annual income of more than $136,000 and reduce business income tax rates to stimulate consumption and business investment, which ultimately was supposed to halt economic decline. But his advisers told him that it would be difficult to gain the approval of the House of Representatives, which is controlled by Democrats, because the surging fiscal deficit and national debt under Trump provides ammunition for the presidential election. After all, Democratic candidates traditionally argue for increased tax rates, especially for the rich.
For Trump, another solution that can produce immediate benefits is to end the trade war with China, as well as the dispute with the European Union and others, and to remove all extra tariffs. These moves would help grow the economy, reduce the financial burden on consumers and boost domestic consumption in the United States.
In launching the trade war, President Trump originally hoped to dramatically reduce America's trade deficit, but it has been proved that this is a distant goal. According to the U.S. Department of Commerce, in 2018 the U.S. trade deficit in goods amounted to $878.7 billion, up by 10.4 percent year on year. And the country ran trade deficits with 102 countries. Is China or the European Union to blame for this problem?
To win the election, President Trump must figure out ways to halt an economic slide in 2020. More important, by the second half of 2020, he must ensure that the American economy will grow more robustly than it did in 2019.
American history shows that economic performance in election years matters. George H.W. Bush, for example, lost his re-election bid in the 1992 presidential election because of an economic slowdown. This is a lesson that President Trump needs to learn from if he expects to secure another term.