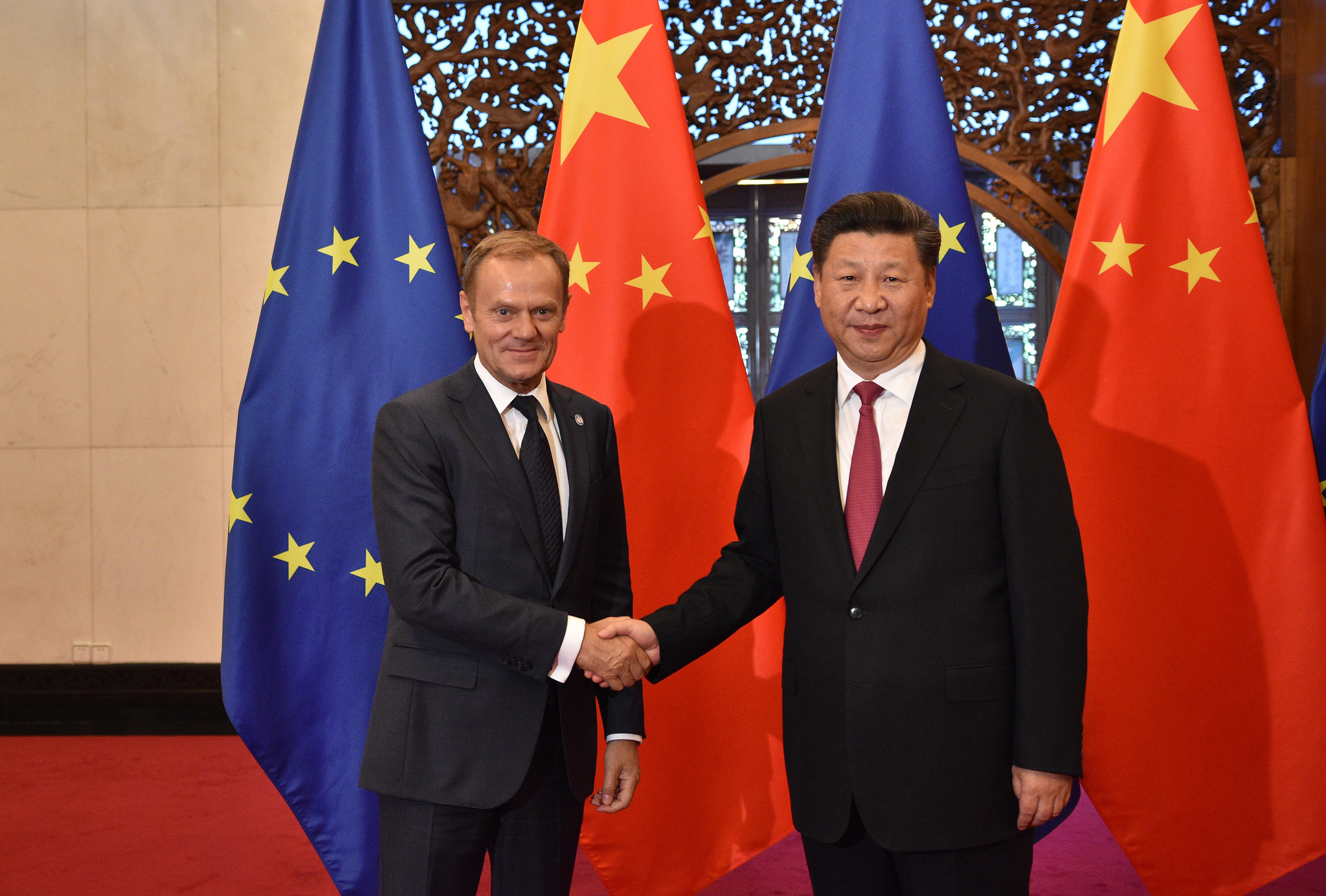 Donald Tusk, President of the European Council, with Xi Jinping at the EU-China Summit in 2016
The next China-EU summit to be held in Beijing on July 16-17 will be used by leaders of the two sides to send a strong message to the United States. U.S. President Donald Trump has unleashed a trade war with Washington's two main economic partners: China and the EU. Both share the same commitment to push back against Trump's protectionist measures and are in favor of an open, fair trading system. Beijing and Brussels are intent on joining forces to hit back at the United States, thus partially undermining the benefits that the Trump administration hopes to reap from imposing punitive tariffs.
The U.S. administration has asked China to cut the $337 billion bilateral trade deficit by $200 billion by 2020, reduce tariffs, and cut subsidies for emerging industries. In the last few weeks alone, the U.S. president has announced punitive tariffs on $34 billion of Chinese industrial exports, with the first round scheduled to take effect on July 6, followed by a second round worth an additional $16 billion. Punitive tariffs on steel and aluminium were also applied to European allies after the U.S. administration refused to grant a reprieve to the EU on June 1. Trump has repeatedly voiced concerns about the $151 billion trade deficit with the European bloc, especially singling out German car tariffs as unfair.
Both China and the EU are responding in kind to Trump's unilateral moves. China has promised to penalize an equivalent value of U.S. exports, focusing on products coming from constituencies that support Trump. The EU is not following a tit-for-tat strategy for the moment, out of hope that further negotiation will put transatlantic relations back on track. However, under pressure from some member states and industrial associations, on June 20, the EU unveiled a list of U.S. products on which it would apply retaliatory trade measures in the form of import licences. The list of about 300 products is worth around €3 billion, according to the European Commission. It includes steel products, a variety of symbolic items (e.g. motorbikes and denim trousers) as well as agricultural produce and food from the United States.
No wonder the top EU leadership is traveling to Beijing next month for the annual China-EU summit. It will be one of their most important meetings in years, as the two sides do not want to concede to Trump's unilateral moves and will seek to fashion a common position against Washington. EU leaders attending the summit in Beijing will include Donald Tusk, President of the European Council; Jean-Claude Juncker, President of the European Commission; Federica Mogherini, High Representative for Foreign Affairs and Security Policy; Jyrki Katainen, European Commission Vice-President for Jobs, Growth, Investment and Competitiveness; and Cecilia Malmström, EU Trade Commissioner. They will meet Chinese leaders, including President Xi Jinping, Premier Li Keqiang and Wang Yi, China's State Councilor for Foreign Affairs.
The EU is now China's most important trading partner, although China ranks number two for the EU, after the United States. Between 2002 and 2017, total EU-China trade has risen dramatically, from €125 billion to more than €520 billion. Today, China and the EU trade more than €1.5 billion in goods each day.
In addition to buoyant commercial relations, Europe is now the top destination for Chinese foreign investments, surpassing the United States. According to the China Global Investment Tracker, a joint project of the American Enterprise Institute and the Heritage Foundation, China invested nearly $164 billion in Europe between 2005 and 2016. During that same period, it invested $103 billion in the United States.
However, Sino-European trade and investment relations remain rocky. EU leaders will certainly use the summit to convey to Chinese leaders their criticisms of China's trade policies and lack of reciprocity, following complaints from the European Parliament and a number of EU member states. In particular, the EU accuses China of restricting foreign investment in its domestic market for almost all sectors. European businesses consistently face difficulties in entering the market, while Chinese companies often receive help from the government, through subsidies or simpler administration procedures, for example. Big government contracts are routinely awarded to Chinese companies. European companies, meanwhile, particularly those with recognized brands and technologically advanced products, are required to share their expertise before they are allowed into the market at all. This has triggered growing imbalances between Europe and China.
In September 2017, the European Commission adopted a new set of guidelines for screening foreign investments. It was clearly a message to Beijing about opening access to its markets and removing non-tariff barriers in a range of sectors that are of interest to European businesses, at a time when the two sides are negotiating a bilateral investment treaty which is meant to address the question of reciprocity. Should the two sides reach an agreement on these issues, there would be a significant boost to Sino-European trade and investment at the expense of other important players, most notably the U.S.
The Trump administration has recently decided to restrict China's ability to invest in, or acquire, U.S. companies and start-ups in sectors such as robotics and aerospace identified by Beijing in its so-called Made in China 2025 plan. This move could have significant implications for China-U.S. relations and open up new possibilities for China-EU ties.
Thus, Trump's trade wars against Beijing and Brussels risk backfiring, as the two are intent on joining forces. This is a remarkable reversal of positions, considering that in recent years, China's trade practices have pushed the U.S. and EU to intensify their cooperation, both within the WTO and outside it. Trump's trade unilateralism now risks isolating the U.S., giving China the opportunity to drive a wedge between the transatlantic allies and reap the benefits of closer ties with the EU, quite the contrary of Trump's pledge to put a halt to China's global ascent.