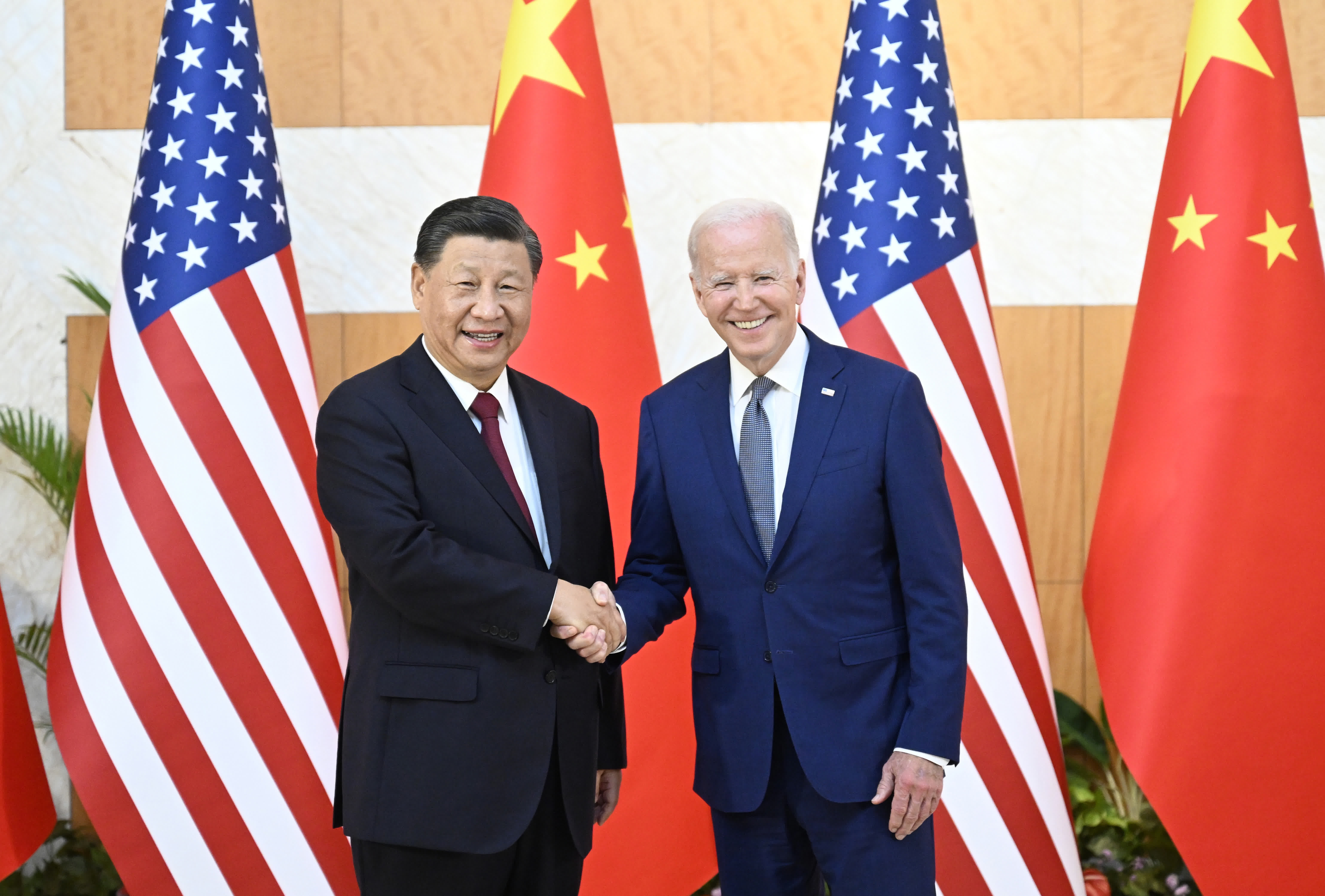 On November 14, on the sidelines of the G-20 summit on the tropical island of Bali, Indonesia, Presidents Joseph Biden and Xi Jinping met in person for the first time during Biden's presidency. While none of the many contentious problems and issues between the two sides were resolved, at least they were discussed in depth and with candor. This in itself is stabilizing, and the world is a slightly safer place as a result. The meeting also established more institutionalized mechanisms for future working level meetings between the two governments.
While the two presidents have held five phone calls and two virtual video meetings since Biden became the U.S. president, this was the first time the two leaders have been able to meet in person. This is largely due to the fact that the Chinese leader Xi Jinping has only recently begun to travel abroad again following a three-year self-imposed isolation in China. But Xi is now "back on the road" again, and participating in the G-20 summit hosted by Indonesia was the perfect "coming out" for his rebooted diplomacy. For both presidents, the G-20 offered the perfect "one stop shop" for their multilateral and bilateral diplomacy, as well as engaging with leaders from other important countries that are central in the U.S.-China global competition.
Presidents Biden and Xi met over three hours. The summit was also the first direct interaction between the two sides since Beijing broke them off following the visit by U.S. House of Representatives Speaker Nancy Pelosi's controversial visit to Taiwan in August (which prompted outrage from the Chinese government and two weeks of threatening military exercises around the island).
Not surprisingly, the Taiwan issue was apparently front-and-center in the leaders' discussions. The White House readout claimed that President Biden "raised U.S. objections to the PRC coercive and increasingly aggressive actions toward Taiwan, which undermine peace and stability across the Taiwan Strait and in the broader region and jeopardize global prosperity." President Biden also "laid out in detail that our one China policy has not changed and the United States opposes any unilateral changes to the status quo by either side." For its part, the Chinese side also reiterated its longstanding positions. In his post-meeting press conference, Foreign Minister Wang Yi said that "President Xi stressed that the Taiwan question is 'the core of the core interests of China', and the red line that the United States must not and should not cross in China-U.S. relations." For his part, when asked at the post-meeting press conference if he expected a Chinese attack on Taiwan, Biden responded that "I do not think there's any imminent attempt on the part of China to invade Taiwan."
The other principal agenda item that appropriately took up considerable time was the effort to establish "guiding principles, or a strategic framework," to "prevent China-U.S. relations from getting derailed or out of control," in the words of Foreign Minister Wang. The American side went into the meeting seeking the same. The official White House debrief reiterated the desire that "competition should not veer into conflict…that the United States and China must manage their competition responsibly and maintain open lines of communication." Both sides seemed to sense that this was both a turning point and an important opportunity to lower the heated temperature and broad frictions that have characterized the relationship over the past months and years, and to place a "floor" under the strained relationship.
While both sides spoke of the need to construct a framework to arrest the deterioration and downward trajectory, it was equally clear that the road ahead remains complex and filled with contentious issues. Biden said: "We're not going to be able to work everything out. I'm not suggesting this is Kumbaya." Biden said his goal is to "compete vigorously, but I'm not looking for conflict. I'm looking to manage this competition responsibly." Biden further observed that "I absolutely believe there need not be a new Cold War." Xi told Biden, "As the leaders of China and the United States we must take the helm and steer the bilateral relationship in the right direction." Foreign Minister Wang similarly observed afterwards, "The U.S. and China should show the world that they are able to manage and control their differences."
Clearly, both sides were looking to establish a foundation under the strained relationship—but also to reconstruct some bilateral modalities in order to steady it. To this end, the two leaders "agreed to strengthen communication and exchanges, and advance practical cooperation," according to the Chinese side.
Afterwards, Biden announced that he had authorized Secretary of State Antony Blinken to visit Beijing for follow-up discussions (this visit will apparently not take place until early in 2023), and it was announced that climate change envoys Xie Zhenhua and John Kerry will recommence formal negotiations (which were broken off by the Chinese side following the Pelosi visit to Taiwan). State Department and Chinese Foreign Ministry officials Dan Krittenbrink and Xie Feng also recently restarted a dialogue, while ambassadors Nicholas Burns and Qin Gang have begun to enjoy slightly improved access to officials in both capitals (after previously having been effectively frozen out). Other cabinet and ministerial level exchanges are also expected to commence, but on a limited and ad hoc basis—there will be no resuscitation of the former gargantuan Strategic and Economic Dialogue (SAED) that was terminated by the Trump administration.
Both sides know well the many deep and real differences that divide them, and there are no expectations that these can be bridged or resolved through restarted bilateral discussions. But resuming such normal diplomatic interactions are, in themselves, stabilizing. As a senior American official put it: "The only thing worse than having contentious conversation is having no conversation at all."
The two leaders also discussed the war in Ukraine, North Korea's recent barrage of provocative missile launches, and transnational challenges such as climate change, food security, and public health security. Both leaders raised human rights concerns with the other, and both leaders spoke of their respective "democratic" systems—in these regards the Chinese side has decided to try and turn the tables on the American side. Mutual steps towards economic and technological decoupling were also discussed, with each side accusing the other of discriminatory behavior.
As a result of this face-to-face summitry between the two heads of state, much was covered in the "very candid and frank" discussions. As a result, a floor seems to have been placed under the strained superpower relationship, and some bureaucratic mechanisms and dialogue channels have been established—but only time will tell if this was a turning point towards an improved relationship between the United States and China. Unrealistic expectations should be tempered. Nonetheless, both Biden and Xi asserted their agency and acted as responsible leaders should.