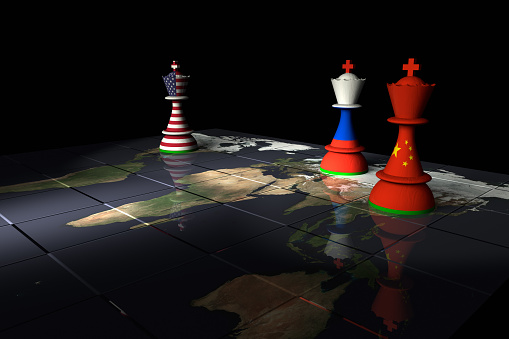 In the international political system, patterns of behavior among sovereign states involve diplomacy, and under certain conditions, diplomatic interactions can generate feedback. But the feedback is not necessarily positive, and it may be more negative in cases when strategic interests cannot be reconciled. Therefore, if the sovereign states in the international system fail to find a new balance of interests through interaction, the current international system will likely be rebuilt by returning to some form of parity.
The year 2021 was a year of instability in the international system, and China, Russia and the United States have opened various diplomatic channels in an attempt to restore strategic stability to the international system but to little avail, with regional military conflicts likely replacing diplomatic efforts.
Putinism meets Bidenism
In the first telephone conversation between U.S. President Joe Biden and Russian President Vladimir Putin since Biden's inauguration, the two sides agreed to extend the New Strategic Arms Reduction Treaty. This appeared to be a good start in improving Russia-U.S. relations.
Shortly after the call, eastern Ukraine once again became the focus of a confrontation between Russia and the U.S. With NATO's eastward expansion, Russia sees the conflict in eastern Ukraine as a direct contest with the West. Putinism has played a decisive role in Russia's diplomatic and national security strategy.
Putinism is neo-conservative in its political philosophy. In its relations with the world, it does not cooperate with the West, it opposes NATO's expansion, it seeks to revise the current international order and it adopts an offensive policy toward the post-Soviet space. During the Trump era, U.S. isolationism and Putinism got along, and Russia-U.S. relations were closer. This state of affairs has reversed under the Biden administration. Bidenism — meaning a restoration of America's global leadership, a reinvigoration of alliances and laying new strategy in the Asia-Pacific region — has clashed with Putinism.
Putinism continues to be reinforced in Russia's new National Security Strategy, which points a finger at NATO. Russia and the United States held a summit in Geneva in June, but it did little to ease relations. Instead, the U.S. and its NATO allies are engaged in a military standoff with Russia in eastern Ukraine, the Black Sea and the Baltic Sea region, with conflict seemingly imminent.
In December, Putin and Biden met online and delineated their red lines. After the meeting, Russia released details of its security draft to NATO and formally withdrew from the Treaty on Open Skies, expressing dissatisfaction with the current international system.
All-out competition
Biden has essentially continued the Trump administration's policy toward China, but it has not refused to engage. In March the two countries held a high-level meeting in Anchorage, Alaska, where talks began with a heated exchange of words that revealed to the international community the tension between the two countries. Since then, U.S. lawmakers have targeted China with a series of bills to compete on three levels —global, regional and national — and in the political, economic, military and technological fields comprehensively.
In terms of action, the U.S. has encouraged NATO and persuaded the G7 to counter China. It created the new AUKUS agreement on security in the Indo-Pacific and upgraded the Quadrilateral Security Dialogue involving the United States, Japan, India and Australia (Quad) under the framework of the U.S. Indo-Pacific Strategy.
In November, the U.S. and China held a summit that produced some easily achievable outcomes, but the two sides remained tit-for-tat on China's internal affairs. On the 80th anniversary of the Pearl Harbor attack, the U.S. announced a diplomatic boycott of the Beijing Winter Olympics, with the U.K., Canada, Australia and Japan joining in.
Although China-U.S. relations are in a downward spiral, socioeconomic relations between the two sides have remained basically stable. According to U.S. statistics, the total value of China-U.S. trade from January to October was $530 billion, up 16.3 percent over the same period last year, which also shows, to some extent, that the China-U.S. relationship is extremely resilient. This resilience is inextricably linked to China's open policy of active integration into the international order and the efforts of many Chinese living abroad.
Seeking equilibrium
If the international system does not guarantee the identity, unity, independence and mutual security of sovereign states, then units are bound to form close collaborative relationships to counteract systemic pressures. Such relationships, in pursuit of what are perceived as legitimate strategic interests, will always be seen by competitors in the international system as attempts to change it. On Dec. 21, U.S. Secretary of State Antony Blinken spoke at a White House news conference about alleged attempts by China and Russia to undermine the international system built and led by the United States. And Russian President Vladimir Putin said at his annual news conference on Dec. 22 that he will consider options if the West fails to meet Moscow's security requirements.
If the existing international system cannot coordinate the strategic interests of China and Russia, I believe China and Russia will choose to seek systemic equilibrium, and the international landscape may form two camps. This may lead to a new cold war, in which case most sovereign states in the international system will have to pay unpredictable security costs in response. The history of international conflicts tells us that in a world of total confrontation, there are no real winners.