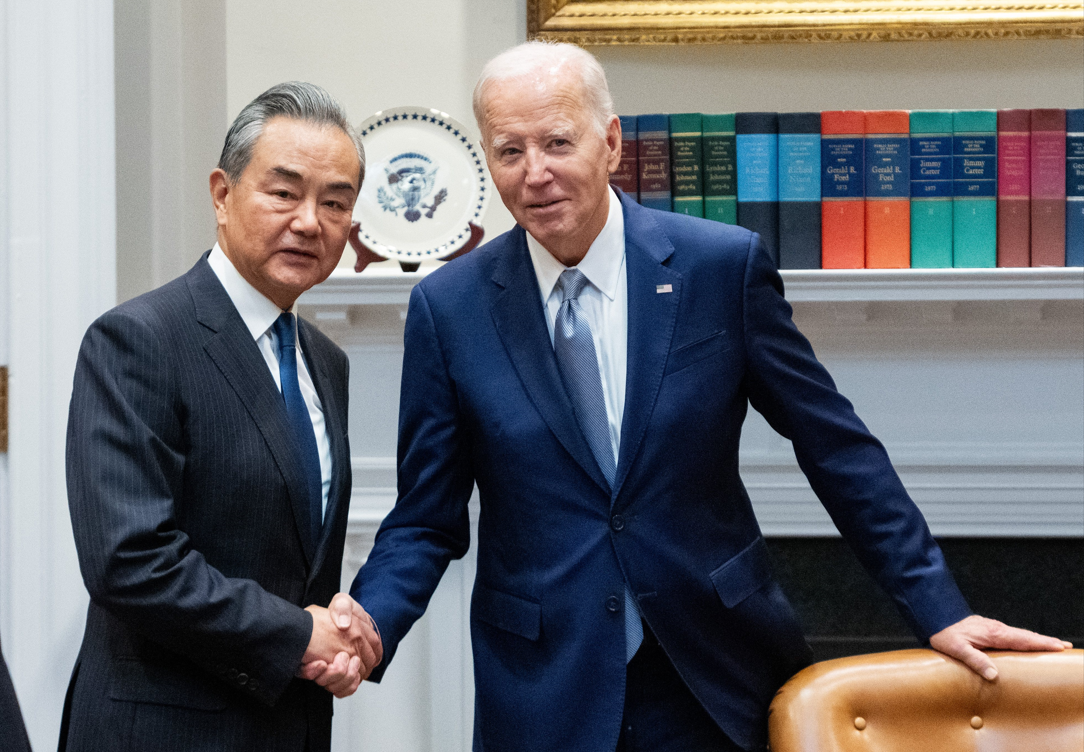 China's Minister of Foreign Affairs Wang Yi paid an official visit to Washington on Oct. 27 and 28. Wang's visit was his first to the U.S. capital in five years and matched U.S. Secretary of State Antony Blinken's visit to Beijing on June 18 and 19.
Blinken had originally been scheduled to visit Beijing in January, following the summit meeting between Presidents Joe Biden and Xi Jinping in Bali last November, when the two leaders agreed to a calendar of reciprocal ministerial-level visits. But that visit was postponed following the balloon incident — a Chinese reconnaissance balloon that traversed the United States and sensitive military installations before being shot down on Feb. 4.
In the interim, the two governments have managed to restart a handful of ministerial/cabinet visits. U.S. Treasury Secretary Janet Yellen and Special Climate Envoy John Kerry visited Beijing in July, followed by Secretary of Commerce Gina Raimondo in September. Chinese Minister of Commerce Wang Wentao visited the United States in May, as have a few second-echelon Foreign Ministry officials. U.S. Senate Majority Leader Charles Schumer, a New York Democrat, led a bipartisan senatorial delegation to Beijing last month, and California Governor Gavin Newsom was in Beijing in late October. National Security Adviser Jake Sullivan also met Wang Yi in Malta in September.
Beneath these higher profile exchanges, the two sides have set up a number of working groups — economy (U.S. Treasury and Chinese Ministry of Finance), finance (U.S. Treasury and People's Bank of China), export controls (U.S. Department of Commerce and Chinese Ministry of Commerce) and Asian Affairs (U.S. Department of State and Chinese Foreign Ministry). There is also apparently a working group that's looking into America's fentanyl crisis, although it is unclear who the official counterparts are.
All of these exchanges are intended by both sides to restore some degree of normalcy to the strained bilateral relationship. "Keeping channels of communication open" has been the mantra and stated priority of the Biden administration over the past year, and it is the American side that has seemingly been the ardent suitor, while Beijing has been more hesitant to engage. Most pointedly, the Chinese side has refused altogether to engage in military-to-military dialogues. The Biden administration sees such channels of communication as important guardrails as it seeks to created mechanisms to responsibly manage the U.S.-China relationship. U.S. administration officials argue that "intense competition requires intense diplomacy."
Engaging in such normal diplomatic interactions might not seem out of the ordinary, but given the strains in the relationship and general atrophy of ties in recent years, such interactions had ground to a virtual halt. For more than a year, even the American ambassador to China, Nicholas Burns, could not get meetings with Chinese government officials (paralleling similar difficulties that former Chinese ambassador to the United States Qin Gang had experienced).
On the eve of Wang Yi's visit to Washington, senior administration officials argued that the overall relationship is in "a better place than six months ago because channels of communication are more open." When President Biden met Wang at the White House he also emphasized that "both the United States and China need to manage competition responsibly and maintain open lines of communication, underscoring that they must work together to address global challenges."
Just before Wang Yi's arrival in Washington, the U.S. Government published three new documents of importance with respect to China: an updated list of items subject to export-controls; new outbound investment guidelines; and the Department of Defense's annual report to Congress — "Military and Security Developments Involving the People's Republic of China." This shows that both governments will continue to take unilateral steps while simultaneously engaging.
The readout by both sides following the conclusion of Wang's meetings with President Biden, Secretary of State Blinken and National Security Adviser Sullivan did not reveal much. The State Department said the talks included "areas of difference" as well as "areas of cooperation," while the Chinese side simply characterized the discussions as an "in-depth exchange of views on issues of common concern in a constructive atmosphere."
It was reported by the U.S. side that the agenda of topics in Wang's meetings included Russia's war in Ukraine (and North Korea's military assistance to Russia to help wage it); Israel's war against Hamas in Gaza, along with Iranian support for Hamas and Hezbollah; human rights violations in China; China's export of fentanyl precursors to Mexico; "cases of concern" involving the detention of U.S. citizens in China (or citizens prevented from leaving; certain economic and trade issues; China's recent aggressive moves in the South China Sea against the Philippines, a U.S. ally; and "coercive and risky" Chinese fighter jet intercepts of American aircraft in international airspace, including one extremely provocative and risky encounter this week when a J-11 fighter repeatedly passed within 10 feet of a B-52 bomber on patrol over the South China Sea; and Taiwan.
Both sides have been doing their best to improve the atmosphere in the relationship, in anticipation of a Biden-Xi in-person meeting on the sidelines of the APEC summit, which will take place in San Francisco from Nov. 11 to 17. After Wang Yi's visit, both sides said they were "working toward" such a meeting, although President Xi has not yet confirmed whether or not he plans to attend APEC.