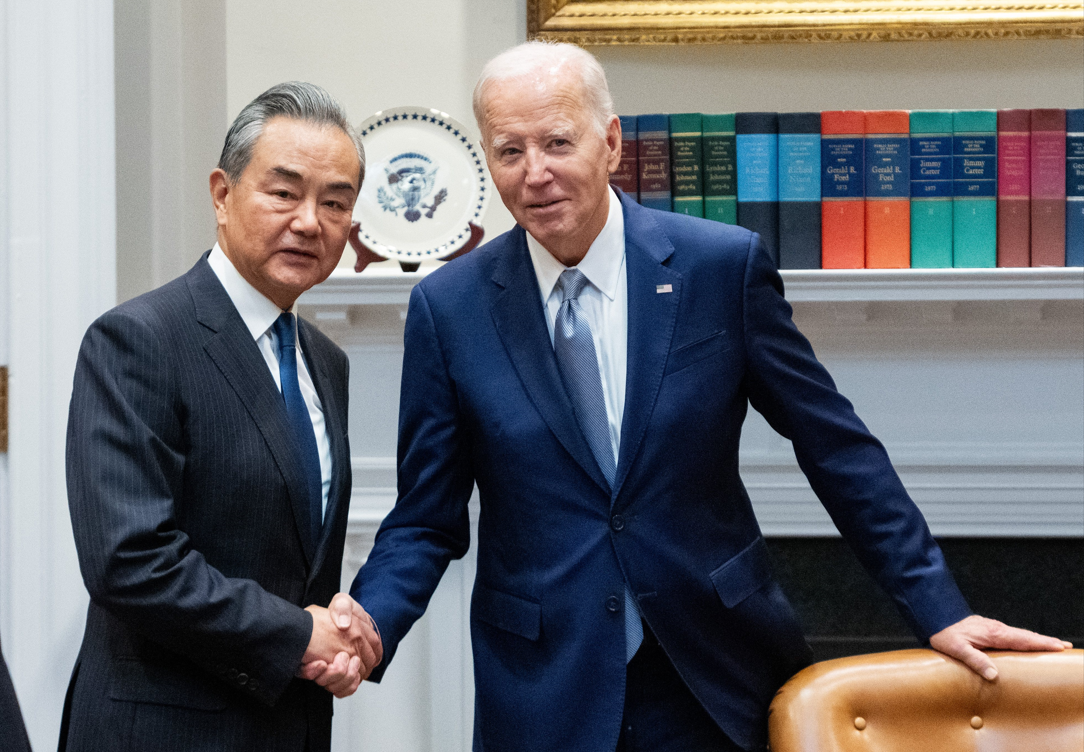 U.S. President Joe Biden meets with Chinese Foreign Minister Wang Yi at the White House on Oct 27, 2023.
Recently, China and the United States have had frequent high-level contacts, with quite a few American cabinet members visiting China, more congressional delegations, more exchanges between states and provinces and significantly increased Track 1.5 and Track 2 dialogues.
All these are signs of a thaw in China-U.S. relations, which in recent years have often been frozen.
A rare favorable atmosphere for relaxation has been created. But will they move? Whether or not the two countries can meet each other halfway may have a decisive impact on their relations in the medium and long term.
The basis for doing that is a shared focus on the big picture. When receiving a bipartisan delegation of the U.S. Senate led by Majority Leader Charles Schumer, President Xi Jinping pointed out that the China-U.S. relationship is the most important in the world and will determine the future and destiny of mankind. This simple statement was profound. China-U.S. relations are indeed big, and pushing their ties back to the right track and ensuring their long-term stability is of immeasurable global significance.
Given the turbulent international environment and increasingly urgent global development challenges, effective coordination and cooperation between China and the U.S. are needed more now than at any time in history. Post-pandemic recovery, climate change and various international and regional hot spots all affect the safety and well-being of mankind and must be addressed by China and the U.S., working together with open minds and a sense of responsibility as the two major powers on this planet.
In recent high-level contacts, the two countries have put in place mechanisms for communication that will serve as important platforms for jointly dealing with major global issues and providing opportunities to explore and reshape the spirit of China-U.S. cooperation.
For China and the U.S. to break out of the ice and move toward each other, it is crucial that the U.S. overcome the negative effects of its domestic politics. The political system and the increasingly sharp polarization in the U.S. nurtures increased divergences and complexity in domestic China-related perceptions and propositions. The history of China-U.S. relations testifies to the very real material impact of politics on America's China policy and its implementation.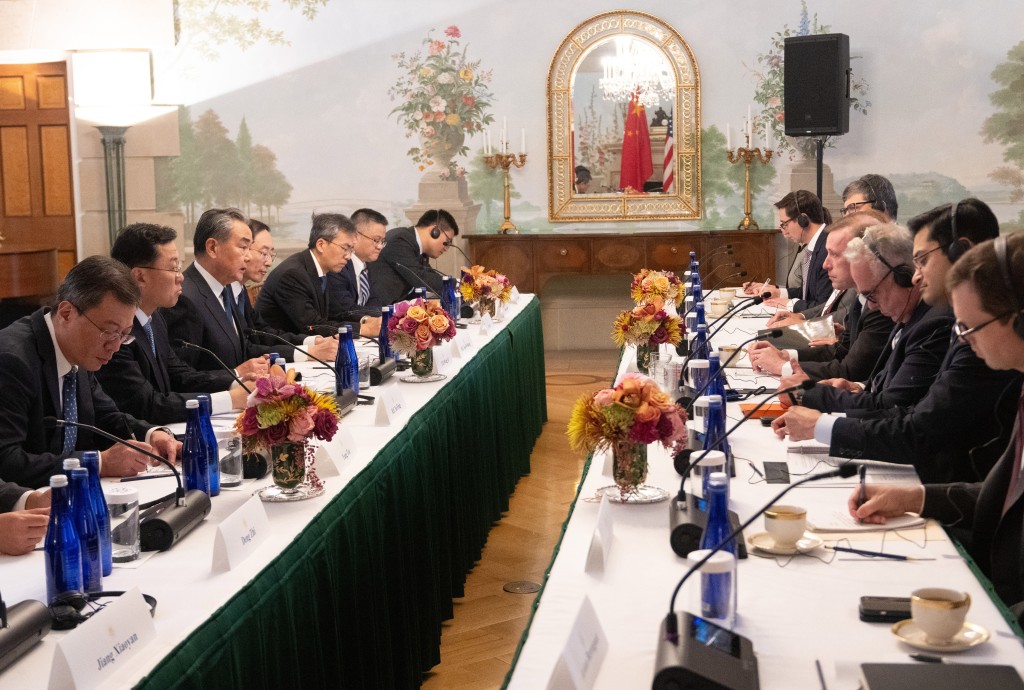 On October 27, Chinese Foreign Minister Wang Yi met with Assistant to the U.S. President for National Security Affairs Jake Sullivan in Washington, D.C..
The recent resumption of contact is also attracting opposition from some anti-China forces, which may propel the Biden administration to launch new suppression measures in parallel with attempts to engage. As the U.S. moves into a new political cycle — a presidential election year — hyped-up negative perceptions of China and shows of toughness and political correctness by politicians are to be expected.
Despite the persistent presence of such political interference, the U.S. administration still has plenty of room to adopt a rational China policy and promote broader and more effective cooperation with China on major functional issues such as climate change and stabilization of the global economy. For President Joe Biden, who is seeking reelection, it is no easy job to take a balanced political stance, but it is not without room to maneuver.
Meeting halfway is possible only when the two societies come back to the right track of communication. In the past few years, the world has been hit by the COVID-19 pandemic and various regional conflicts. Inevitably, people in various countries now look at the world and their own relations with it in ways very different from what they did before. The cold China-U.S. relationship in the past few years has to a certain extent deepened the perception gap. In addition, negative China-related propaganda by two American administrations has greatly soured perceptions of China in society and hindered regular people-to-people exchanges.
Now that exchanges in business circles, think tanks, culture and sports are slowly recovering, conditions exist for the people of the two countries to correctly look at each other under the new situation and with new mindsets. The U.S. frequently talks about the need to set up "guardrails" in China-U.S. competition to prevent potential crises from getting out of control. However, essential people-to-people exchanges and rational social perceptions are what provide the fundamental guarantee that relations will not derail or break up. Arguably, in the face of the great changes in the world, greater understanding in both Chinese and American societies is of strategic significance.
In the coming period, in addition to sustained bilateral interactions, China and the U.S. should also make better use of major multilateral occasions to help stabilize their relationship. The upcoming Global Artificial Intelligence Summit in November, the COP28 in December and the much-anticipated APEC meeting in San Francisco will be good places for them to interact in a healthy way at different levels.
The rapid development of artificial intelligence has created new security concerns, and rule-making in this field is triggering new international competition. Meanwhile, the climate change alarm is constantly ringing. According to the assessment report by the United Nations Intergovernmental Panel on Climate Change, rising global temperatures increase the risk of reaching a critical point of no return. Policies that China and the U.S. adopt and how they will lead global cooperation have attracted the attention of all countries.
While trying to stabilize relations anew, amid many difficulties, whether or not the two countries are able to find new cooperation points multilaterally in a spirit of mutual benefit will be both an important test and a great opportunity for China and the United States in the next stage.