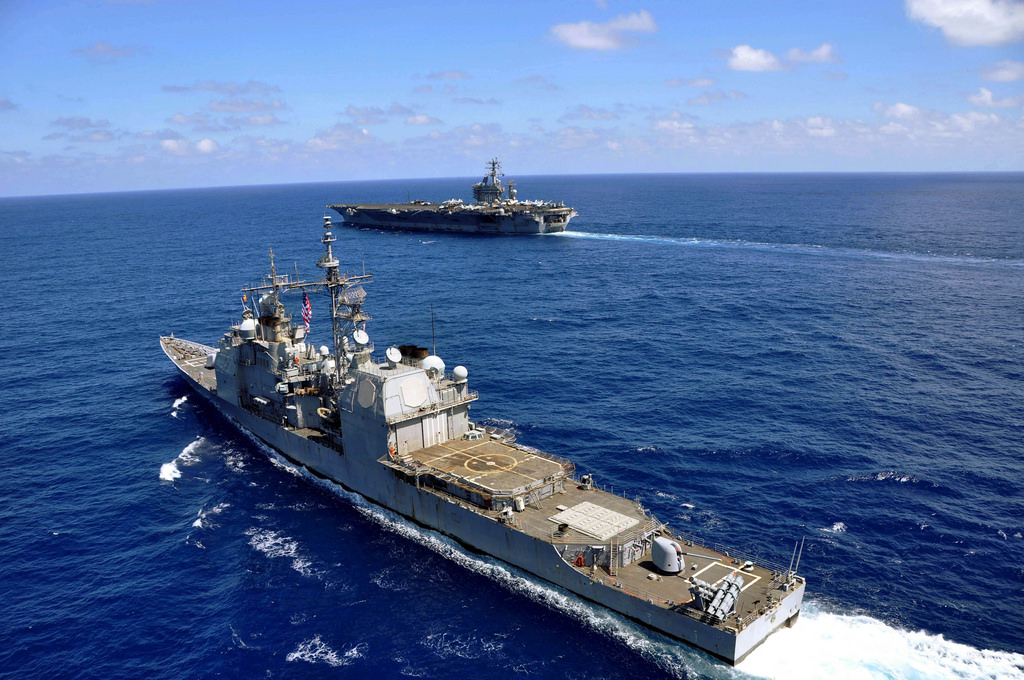 China's growing military power is undermining East Asia's military status quo. When Beijing was weak, its leaders had to accept the Pentagon's primacy in the Pacific. Now that China is stronger, Beijing is trying to reorganize the world according to its own preferences. For this reason, the U.S. effort to deny China access to advanced Russian weapons is understandable and, arguably, preferable to more direct attempts to decelerate China's military modernization.
The Countering America's Adversaries Through Sanctions Act (CAATSA), enacted in mid-2017, mandates sanctions on people, companies and organizations that engage in a "significant transaction" with Russia's defense and intelligence sectors. Besides punishing Russia for its past "malign activities," the purpose of the CAATSA is to decrease the resources Moscow can employ against the United States and its allies and partners. One important way to do so is to discourage countries from buying Russian weapons.
In accordance with Section 231 of CAATSA, the Treasury Department on September 20 imposed sanctions on the Central Military Commission's Equipment Development Department (EDD), which helps acquire and develop Chinese military technology. Treasury simultaneously added the EDD's director, Li Shangfu, to its Specially Designated Nationals and Blocked Persons List.
The PRC government reacted exceptionally sternly to these sanctions. Besides denouncing the sanctions, Chinese officials protested to senior U.S. diplomats in Beijing and Washington, recalled PLA Navy Commander Shen Jinlong from the International Seapower Symposium in the United States, boycotted a scheduled session of the Sino-U.S. joint staff communication mechanism and effectively canceled the planned visit of Defense Secretary Jim Mattis to China early next year, as part of the Diplomatic and Security Dialogue, by letting the Pentagon know that no senior PRC officials or PLA officers would be available to see him.
It would be surprising if Chinese officials did not anticipate the CAATSA sanctions. The triggering action was the PLA's receipt, after the legislation entered into force, of two of Russia's deadliest weapons systems. In December 2017, Russia delivered ten Sukhoi Su-35 fighter aircraft. The Su-35 has become the best fighter now in operation in the Russian air force. In January of this year, China received the S-400 surface-to-air missile system, which is the most advanced Russian long-range air defense missile. China was the first foreign country to receive these Russian systems. These transactions are, by any reasonable reckoning, militarily significant.
Even before the September 20 CAATSA decision, tensions between Beijing and Washington were surging. Due to the PLA's ongoing militarization of disputed South China Sea islands, the Pentagon in May reversed its invitation to the PLA Navy to participate in the 2018 Rim of the Pacific multilateral exercises. The PLA has become increasingly assertive in challenging U.S. Freedom of Navigation Operations, which the Trump administration has recently resumed. Last week, after Washington approved a potential $330 million arms sales package to Taiwan, China denied a U.S. Navy ship's request to dock in Hong Kong. These growing military tensions occur against a backdrop of increasing Sino-U.S. economic friction. Washington and Beijing have been imposing a growing range of economic tariffs and other measures on each other.
Responding to the sanctions, Foreign Ministry spokesperson Geng Shuang said, "The cooperation between China and Russia is aimed at helping the two nations protect their legitimate interest and maintain regional peace and stability. It does not violate international laws or target at any third party." It needs to be stated that Beijing is not considered an "adversary" under the CAATSA and is therefore not a formal target of the sanctions. That said, the U.S. government's decision to impose, for the first time, sanctions under Section 231 of CAATSA was significant.
Sino-Russian defense cooperation has grown to unprecedented levels and has presented distinct challenges to U.S. security. Moscow has transferred the PLA some of its most sophisticated air, naval, and missile systems, helping Beijing overcome Western arms embargos. The Russian weapons sellers receive substantial income from these sales, which they use to fund the modernization of the Russian military. China has used these and other weapons to enhance its global power projection, which has been apparent in the expanding number and diversity of the Sino-Russian defense exercises. The weapons the PLA has bought from Russia have enhanced its ability to conduct long-range precision strikes against U.S. forces and bases throughout East Asia. The PLA's increasing capabilities have also empowered Beijing's policymakers to more vigorously challenge Pentagon practices that China has long opposed, such as U.S.-ROK military exercises and FONOPs. The arms sales and other defense collaboration have provided the foundation for closer Chinese-Russian alignment on other issues – collaboration often directed against the U.S. and its friends and allies.
Furthermore, the sanctions aim more to discourage other countries — rather than China, which has completed its purchases — from buying Russia's major weapons systems. The CAATSA decision has reinforced the credibility of the U.S. threat to sanction other countries presently contemplating purchasing the Russian S-400 and other systems that fuel the Russian war machine. If the sanctions succeed in slowing China's militarization, they will reduce the need for the United States to further expand its own military power in the Pacific. The CAATSA sanctions, unlike other types, will not hurt the Chinese people and could even help them if their government spends less money on Russian weapons and more on socioeconomic welfare.
Meanwhile, China-U.S. military ties are regressing. A decade ago, Beijing regularly suspended Sino-American military exchanges to signal unhappiness with various U.S. policies, especially U.S. weapons transfers to Taiwan. More recently, Beijing and Washington have managed to develop a more durable defense dialogue, to their mutual benefit.
Yet, China's excessive response to the sanctions threaten to undo this progress, at a time when Pentagon-PLA exchanges could be even more valuable due to the expanding range and activities of the Chinese military. The PLA's growing global presence has generated more instances when Chinese and U.S. military forces have operated in proximity, elevating the risks of further bilateral military incidents, whether due to accidents, miscalculation, or other causes.