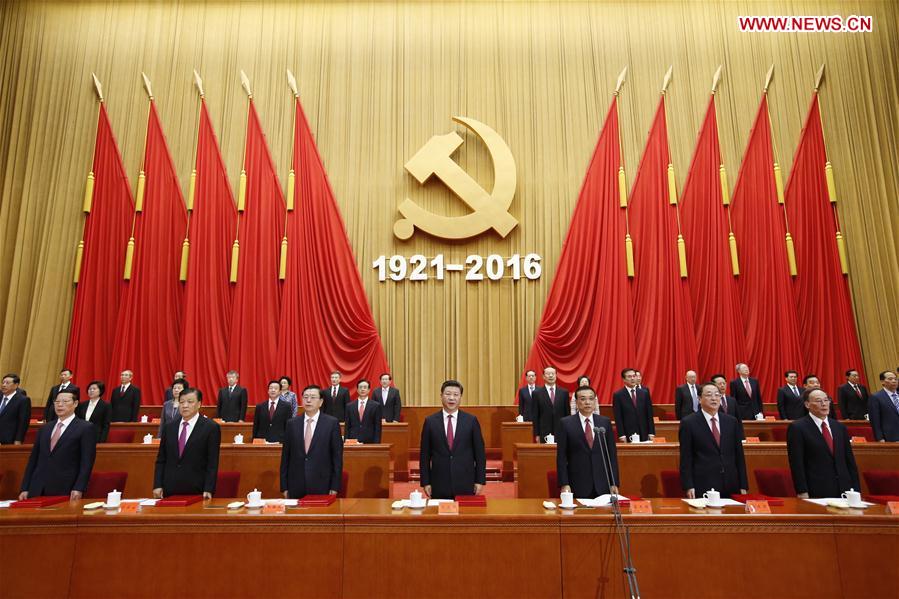 Chinese President Xi Jinping and other senior leaders Li Keqiang, Zhang Dejiang, Yu Zhengsheng, Liu Yunshan, Wang Qishan and Zhang Gaoli attend a rally marking the 95th anniversary of the founding of the Communist Party of China (CPC) at the Great Hall of the People in Beijing, capital of China, July 1, 2016. (Xinhua/Ju Peng)
Occuring once every five years, the Communist Party of China National Congress is the most important meeting in the Chinese political sphere, drawing the roadmap for national development. The upcoming 19th CPC National Congress will definitely become an epoch-making milestone for China's peaceful development.
The meeting will exhibit the following characteristics:
First, it will be a solemn meeting that will certify Xi Jinping's core status in the CPC at the highest level.
Since the 18th CPC National Congress, dramatic changes have taken place in Chinese economic conditions, foreign relations, and its political ecosphere under General Secretary and President Xi. His philosophy and practice of national governance have successfully created remarkable achievements in China. Grand goals, outstanding leadership, and a simple, personable style have earned Xi the trust, respect, and admiration of his party and his nation.
It will be a splendid occasion to affirm Xi's leadership role in the form of a CPC National Congress. Whether that will be done via organizational change within the party will be a key focus of public attention.
The People's Republic of China has witnessed substantial twists and turns since 1949. Between 1949 and 1978, under Mao Zedong, China established its socialist political and economic foundation. From 1978 to 1989, under Deng Xiaoping, the country formulated its brand of socialism with Chinese characteristics through reform. Beginning with the 18th CPC National Congress, in a brand-new 30-year period, the country will become an intermediately developed one under Xi.
Second, it will be a summary of the outstanding achievements in national governance since the 18th Congress.
At the first press conference after assuming leadership of the CPC, Xi announced the implications of "Chinese Dream", saying that people's wishes for better lives will be the primary foundation of the CPC's goals.
Extraordinary progress has been made toward those goals in the past five years: corrupt officials have been severely punished, citizens's livelihoods have seen obvious improvements, and the country's military prowess has been upgraded, along with its international status. Subsequent achievements are expected to be based in the idea of innovative, coordinated, green, open and shared development. The nation has benefited tremendously from Xi's mission to build a relatively well-off society, deepen reforms, enforce the rule of law, and implement strict self-discipline within the CPC "in an all-round manner".
Third, it will be an oath-taking ceremony for the country's advance toward a stage of innovative development.
The CPC's grandiose ideals derive from self-confidence in the path it has taken, its theories, systems, and culture. To this end, the report of the 19th Congress will be very comprehensive. It is not difficult to imagine the most appealing parts of it will be:
First, the CPC should address how to fundamentally solve the problem of poverty while maintaining sustained, steady and healthy development of the national economy. Through decades of reform and opening up, there has been a decrease in the number of people living below the poverty line; more than 200 million have seen their fortunes improve, but 27 million still struggle daily. According to the nation's poverty alleviation plan, the CPC will not only will it lift poor people and regions out of difficulty by 2020, but will also lay a strong foundation for sustainable relief mechanisms.
Second, the 19th National Congress should discuss how to institutionalize the fight against corruption and finally tackle the such vices while maintaining a democratic system guarantee. The people are expecting that Xi's promise to "lock power in the cage of systems" will be honored at the 19th Congress.
Third, the CPC should examine how to build a stronger military, so as to preserve national security, facilitate national reunification, and protect regional and global peace.
Fourth, the 19th National Congress will be an occasion to demonstrate the country's sense of responsibility as a global power.
Xi has proposed to build a human community of shared destiny in our uncertain world. This community is the organic integration of our shared interests and shared responsibility. True to the objective of this community, peace, development, and a "win-win" idea of cooperation have been consistent principles in Chinese diplomacy. Of course, preserving peace is not the same as outright appeasement and so, there is no room for compromise when it comes to national sovereignty. Similarly, promoting development does not mean indiscriminate giving and promoting cooperation does not mean supplicating anyone. Seeking win-win outcomes must be based on sincerity.
China is promoting economic globalization with the "Road and Belt" and actively participating in global governance, particularly with its leadership on climate change. The CPC 19th National Congress will usher China into what James C. Hsiung calls "Xi Jinping Era", a new period of Chinese history that will be marked by prosperity and peace.