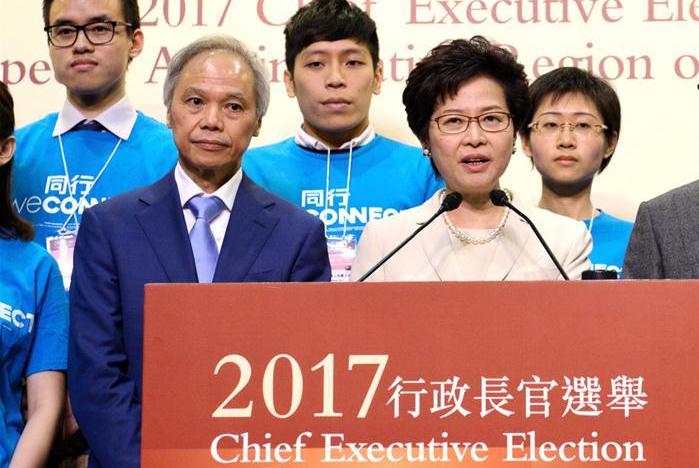 Carrie Lam Cheng Yuet-ngor (Right) meets the press after winning the election in Hong Kong, south China, March 26, 2017. Lam Cheng Yuet-ngor on Sunday won the election of the fifth-term chief executive of China's Hong Kong Special Administrative Region (SAR). (Xinhua/Qin Qing)
On the 26th of March, Carrie Lam Cheng Yuet-ngor won the Hong Kong Chief Executive elections, with a total of 777 votes from the 1194 election committee members. These are the only residents of Hong Kong allowed to vote; among them over 300 belong to the pan-democratic camp, while the others are politically or economically aligned with Beijing. Even when trailing close behind John Tsang's popularity in three university polls prior to the election, Carrie Lam still decisively beat Tsang, a pro-Beijing candidate, who received 365 votes. Woo Kwok-hing, who comes from a neutral political background, received only 21 votes.
Praises from the incumbent CY Leung, coupled with earlier remarks that Lam wished to continue CY Leung's policies, has earned her the moniker "CY 2.0". On the flipside, some of her choices, like choosing to meet with pan-democratic leaders after the election have been likened to previous Chief Executive Donald Tsang's administration's efforts. The question remains: will Lam become CY 2.0, or Donald Tsang 2.0?
When Carrie Lam expressed her desire to continue CY Leung's principles before the elections, it immediately created backlash from the pro-democratic camp, which resolved not to vote for her. Current affairs commentator Chip Tsao also noted that as the de-facto leader of the Guangdong-Hong Kong-Macau Bay Area development, CY Leung would pressure Carrie Lam into forming policies in cooperation with this development, possibly to the point of dictating her government's efforts.
Carrie Lam's project to construct a palace museum in Hong Kong's Kowloon West district to showcase artifacts from Beijing's Palace Museum also drew flak. Apparently, until the official signing of the agreement between herself and Chinese cultural minister Luo Shugang on 23 December 2016, Lam kept the general public, as well as the West Kowloon Cultural District Authority, which will be responsible to manage the Palace Museum, in the dark. Many were disappointed that the government held no public consultations for this project. Some saw Lam's approach to this project as comparable to CY Leung's heavy-handedness in pushing his policies during the majority of his term. This was also seen as a strategy to cement her credentials as an able Chief Executive to the mainland.
Finally, the amount of lobbying the Central Government's Liaison Office in Hong Kong conducted for Carrie Lam during this election indicated that she is the perfect person, at least in the eyes of the Liaison Office, to inherit CY Leung's policies. During the majority of his term, CY Leung took an active role in integrating Hong Kong into Mainland China, whether it was politically, culturally, or economically. Lam even admitted to the Liaison Office's active role, not only in the elections, but also, to her apparent annoyance, in telling her who to select for her team of Principle Officials.
It seems that Carrie Lam indeed deserves the title of "CY 2.0". However, her career training and development actually resembles another former Chief Executive – Donald Tsang. Having risen through the Hong Kong civil service during the British era, and even serving as a Principle Official herself under Tsang, Lam could govern with a style akin to Tsang.
Carrie Lam's responses to the lead-in-water scandal when she served under CY Leung also resembled Donald Tsang, in his regard of civil servants, according to an Apple Daily commentary. Although an independent commission faulted the government for the scandal, Lam insisted that the officials should not apologize, and not degrade themselves by drinking a glass of the suspected water. This showed Lam's similarities to Tsang in the way they regard their officials.
After the elections, Carrie Lam also met with pan-democrats to discuss her future policies. She also reportedly tried to recruit the former Chairman of the Hong Kong Bar Association Winnie Tam, known as a constitutionalist, into her team. This also bears resemblance to Donald Tsang's style, where his Chief Secretary Rafael Hui sought to meet with pan-democrats in seeking compromises, in order to pass policies. Having undergone training as Civil Servants, both Tsang and Lam seem to hold the passing of local policies as their top priority. In this manner, Lam could differ from CY Leung.
Carrie Lam has also tried to shake off the "CY 2.0" label. She indicated in her manifesto that she was prepared to axe some of CY Leung's policies, such as the Territory-wide System Assessment for Primary Three Pupils, and to restructure the government think-tank, Central Policy Unit. She also distanced herself from her former boss by clarifying that they are two different people with different career paths. Furthermore, the assumption that Beijing has requested for Leung not to run for the next term could indicate that Beijing no longer favors a CY style of governance. Indeed, with a lower popularity compared to John Tsang (unrelated to Donald Tsang), Lam needs the mandate of the people to smoothly achieve her priority policies.
However, the question remains, as to what extent does Carrie Lam have to focus solely on passing local policies. Considering the unsolicited help from the Liaison Office in winning the elections, Lam could be coerced to push for the Office's agenda in Hong Kong. As mentioned, Lam has shown her displeasure with the Liaison Office's interference. If she does succeed in bargaining for more autonomy from Beijing, then she could boost her popularity and shed the CY 2.0 label, taking a non-deliberate resemblance of Donald Tsang's style. Even if she cannot wrestle for more control, it remains doubtful that she will personally take the hardliner stance of her predecessor in pushing for policies friendly to Mainland factions. Meanwhile, with the Office purportedly picking key officials for Lam, even if Lam embodies the mentality of Donald Tsang, she may find it very hard to play her cards independently.