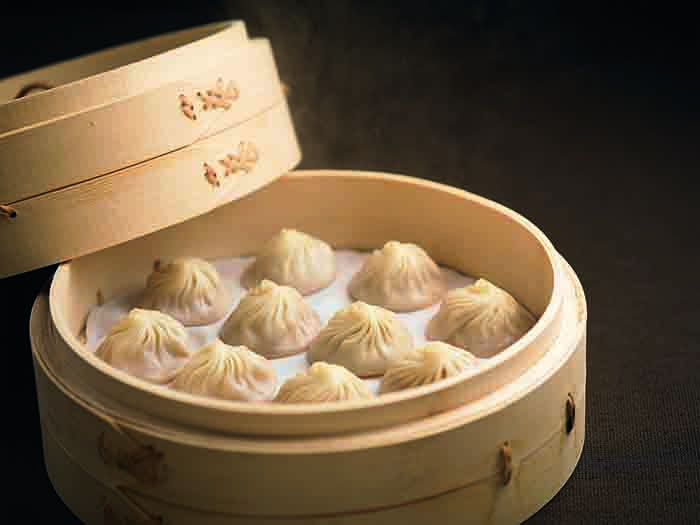 As a teenager in Taipei, Sunday mornings at Din Tai Fung were a sacrament in my family. Just after 9 o'clock, my parents, brother and I would meet my extended family – three sets of uncles, aunts and cousins – and join our grandparents for breakfast at Din Tai Fung. Back then, the Taiwanese restaurant – which today is a global name famous for its steamed pork xiao long bao soup dumplings – was an unassuming eatery in downtown Taipei. There was no English menu and you ordered dishes based on numbers, which you ticked off on a handheld clipboard. The restaurant was housed in a tall, narrow building, each floor clean and sparse, but also packed, seating some 30 people, with each level joined by a steep, dimly-lit staircase. I will never forget that cramped, winding staircase: we all took turns helping my grandparents up and down those treacherous steps. Upon arriving at the restaurant, we always insisted on a table on a lower floor, our appetites whetted by the small, open kitchen where workers diligently pounded and rolled dough, silhouetted in the steam that wafted from large bamboo baskets. If we arrived too late, we'd sacrifice our place in the queue until a table on the first or second floor was available.
Even in the 1990s, there were queues outside Din Tai Fung. For as long as I've known, the restaurant was both synonymous with xiao long bao and the queues of people it drew to savour this signature dish. Last December, Din Tai Fung opened its first outlet in Europe – in London – and for months leading up to ribbon-cutting day, the rumour circulating was to expect five-hour queues (in reality, it's been more like two, but still….). Small wonder, these are the xiao long bao that Forbes magazine once described as the "world's greatest dumplings", and this is an establishment that the New York Times famously named as one of the world's top 10 restaurants.
Din Tai Fung began in 1958 selling cooking oil. Its founder, the Shangxi-born Bing-Yi Yang, had arrived in Taiwan a decade before, and he and his wife eventually set up the "Din Tai Fung Oil Retail" company on Taipei's Xin Yi Road (the original sign still hangs in the flagship restaurant today). The shop thrived through to the 1970s until tinned cooking oil became popular and the Yangs had to adapt to survive. In 1972, the family transformed part of their store into a dumpling house. Word of mouth spread about its excellent, savoury xiao long bao – and most notably to the palate of the world-renowned Chinese chef and food critic Ken Hom. In 1993, Hom famously brought Din Tai Fung to the wider world via a mention in the New York Times.
That article surely changed the course of Din Tai Fung history. Three years later, Mr. Yang's humble dumpling house opened in Japan, its first branch outside Taiwan. Today, Din Tai Fung is a global enterprise with more than 150 restaurants worldwide, including the United States and China – its Hong Kong restaurant holds a Michelin star. Most, if not all the outlets have a plaque or sign placed front and center highlighting the New York Times "top ten" accolade. But marketing aside, what's really made Din Tai Fung so identifiable and transferrable is its absolute consistency across time and place – made possible by a near-surgical process of preparation. Every single Din Tai Fung xiao long bao is created by chefs who train on the job for six months, who fill dumplings with a now-perfected magic ratio of dough to pork, and who top each xiao long bao with no less than 18 handmade folds. Every morsel, from Shanghai to Seattle, passes through six different stations and a 40-minute process of hand preparation.
Such passion and precision are already drawing the crowds to the new London restaurant, which opened in December. Located in buzzy Covent Garden – home to market stalls, street performers, the Royal Opera House and many theatres – the airy and spacious two-level restaurant can accommodate over 230 diners. The design is modern and sleek, with East-meets-West accents including sculpted grey tiles, rattan, and birch wood. It's a far cry from the mom-and-pop Din Tai Fung of my youth, with its death-defying staircase and order-by-numbers menu – though there is still an open kitchen where the chefs, cleanly clad in white, craft each dumpling. (Indeed, the open kitchen is now a regular feature at all Din Tai Fungs across the world.)
In London I meet with Xue-Feng Bai, the UK Director of Taster Food UK, a member of the Bread Talk Group Singapore. Mr. Bai is an enthusiastic, soft-spoken 42-year-old who was formerly the CEO of a Chinese supermarket business in the UK. To my surprise he tells me that in addition to the expected Chinese customers dining here, many others are Westerners – and already die-hard Din Tai Fung fans.
"In London there are a lot of people here who are well-travelled. They go to Singapore, Thailand, Taiwan, very often America as well. So, they know the brand because when [they are in Asia] as it has a good reputation," says Mr. Bai. "We have a lot of customers coming nowadays [who] actually said they have eaten this before… it's good, we have fans."
Mr. Bai says that people keep coming back because of the "quality" and "service that's second to none." But before I dismiss this as marketing spiel, he adds: "Because everything we do is with soul. We kind of put our soul [into it] for you."
I know what he means. I first felt it back in Taipei, as a moody teenager who wanted nothing else on a Sunday morning but to have a lie-in and natter with my friends on the phone. But once I arrived at that small, faithful entrance on Xin Yi Road, the billowing steam and growing queue spotted from afar, a kind of camaraderie set in. The Din Tai Fung hospitality and spirit – that "soul" that Mr. Bai refers to – has a warm familiarity and promise to it: you and all the other families lining up will soon be eating the best and most lovingly-made xiao long bao.

Food is rooted in family – and this feels even truer with Chinese cuisine, where the culture is served on shared plates, gatherings around a table, and the Lazy Susan spinning in the middle. Din Tai Fung embodies this spirit at its heart. Mr. Yang, now in his 90s, is still involved in the business, while his son, Chi-Hua Yang – who first started working in the restaurant as a teenager – is now in charge of the day-to-day work.
Mr. Bai himself couldn't resist Din Tai Fung's family dynamic. He tells me that whether it was his previous job or this one, he always wanted to work for a company with a past – "to bring that legacy from elsewhere and to be a guardian of the brand and be very successful… I always feel honoured to take that role."
Families are the core clientele wherever Din Tai Fung sets foot. I've visited its outlets from Los Angeles to Beijing, and the families there always echo mine from my teenage years: the warm sight of multiple generations coming together.