Although China and Russia only produce about 10 percent of available vaccines, they currently dominate global vaccine donation efforts through the COVAX initiative.
Last year, President Xi Jinping made a vow to make Chinese vaccines a 'global public good' available for purchase at a 'fair and reasonable price,' with plans to aid at least 53 countries.
Beijing masterfully presented itself as a global health leader to African, Asian, and European countries by donating masks around the globe and then distributing vaccine cargo via its 'Health Silk Road.' The list of vaccine benefactor countries includes 19 African countries, Colombia, and Serbia. Although some countries received medical supplies as 'donations,' other nations paid for the equipment or took out a loan from China to pay for the vaccine shipments. While there is virtually zero desire for Chinese vaccines in the west, Beijing has found many willing recipients for its vaccine in the low- and middle-income countries in Africa, Asia, and Latin America.
In Asia, 90 percent of the ASEAN countries, except Vietnam, plan to use Chinese vaccines, and Beijing promised to donate vaccines to Brunei, Cambodia, Laos, and Myanmar. The Philippines received a donation, to which it responded with a purchase of more vaccines, while Indonesia, Malaysia, Singapore, and Thailand went ahead and purchased the vaccines outright. In places like Sri Lanka, Nepal, and Bangladesh, China competes with India for vaccine exposure.
While Chinese grant activity in Africa is not uncommon, the pandemic response improves Beijing's diplomatic image, as Washington criticizes Beijing's human rights record.
Like China, Russia engages in 'vaccine diplomacy' with their Sputnik V vaccine's rollout in Argentina, Hungary, and Tunisia. Even Mexico expects to receive 24 million doses. However, the Russians rely on pop-up production networks worldwide because production capabilities are limited in Russia.
Colombia is one of 20 countries whose sole supplies come from China and Russia. Although the efficacy rates are relatively lower, the Chinese and Russian doses are not mRNA vaccines like the ones produced by Pfizer, BioNTech, or Moderna. The Chinese vaccine is based on the inactivated virus. However, the efficacy rate varies from country to country; Sinopharm is 91 percent effective in Turkey but 50.4 percent in Brazil.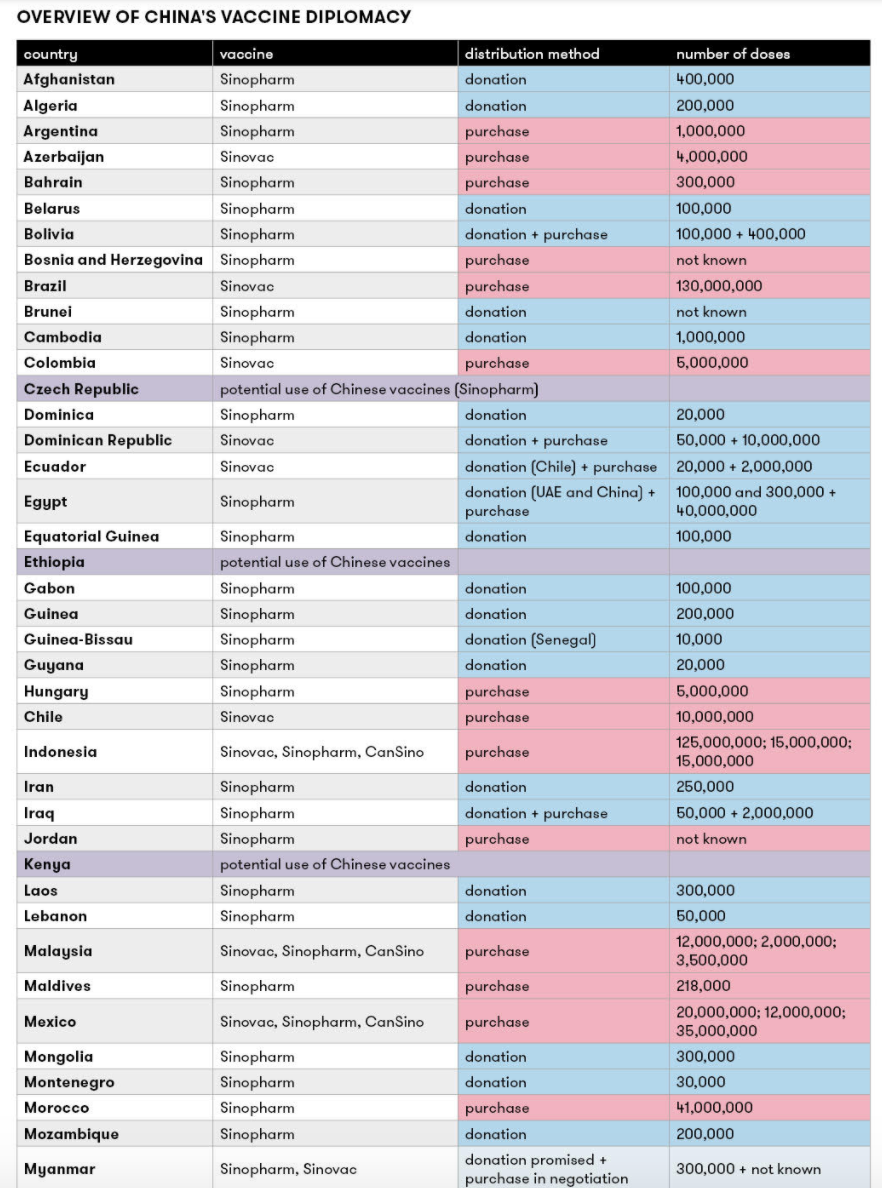 Source: https://thediplomat.com/2021/03/the-logic-of-chinas-vaccine-diplomacy/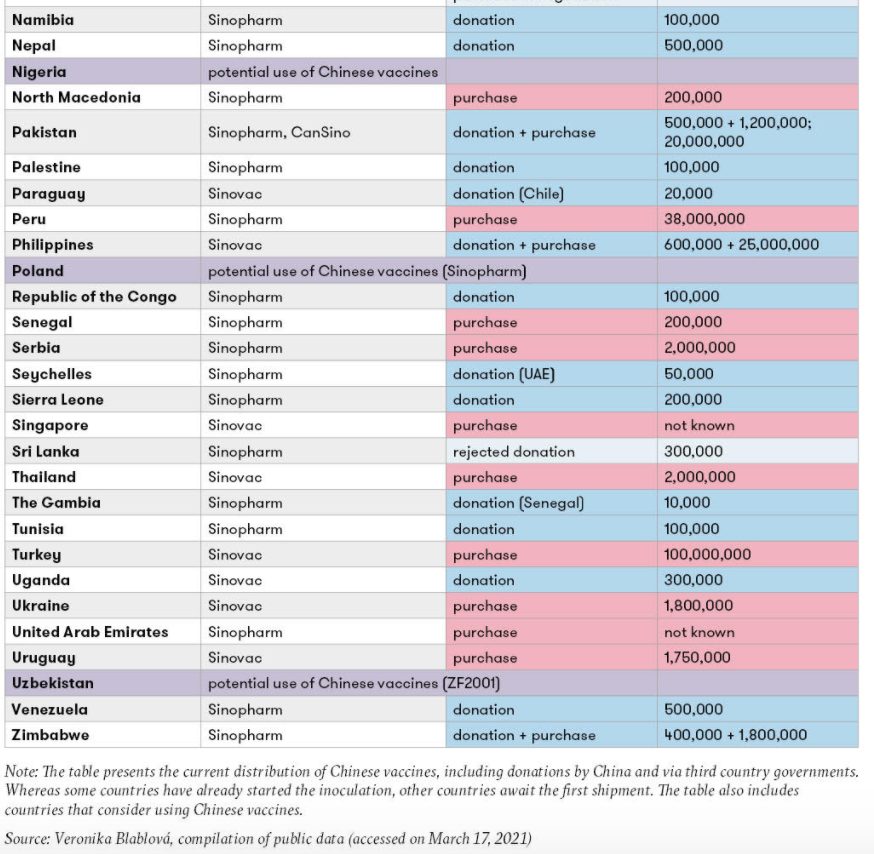 Source: https://thediplomat.com/2021/03/the-logic-of-chinas-vaccine-diplomacy/
In Europe, countries turned to China for vaccines after Western production experienced delays. Hungary, the Czech Republic, North Macedonia, Montenegro, and Serbia were the first European countries to start using the Chinese vaccine. The Czech Republic asked Beijing to deliver shipments, while the Poles are considering receiving vaccines from China as well.
Hungarian Prime Minister Viktor Orbán praised Beijing, saying Hungary was "grateful to the People's Republic of China and President Xi personally for all the help in this challenging period."
Officials from European countries that bought Chinese shots say an explicit quid pro quo was neither requested nor given. However, many governments have failed to disclose vaccine contract details to the public. Some reports allege that rapid vaccine deliveries could be tied to sewage, waste treatment, and landfill infrastructure projects in municipalities across countries such as Serbia.
Non-European countries like the United Arab Emirates, Egypt, and Morocco also relied on Chinese supplies due to production and distribution delays through other partners.
China and Russia's vaccine diplomacy led other more minor regional powers to pursue similar projects. For example, Serbia procured vaccines from both the west and east and became something of a regional distribution leader.
In addition to initiating its own' vaccine diplomacy' in the western Balkans, officials in many countries reconsidered purchasing Chinese vaccines after witnessing Serbia's experience. Currently, Serbia offers its citizens a choice between Western, Russian, and Chinese vaccines and is among global administration leaders. Overall, Serbia's neighbors have also been impressed by Belgrade's ability to work with many different sides and administer vaccinations quickly.
Serbia's President Aleksandar Vučić secured enough vaccines for two million citizens while neighboring countries experienced shortages. The EU largely abandoned the Western Balkans after its issues and challenges with the AstraZeneca vaccine's procurement, delivery, and administration. Vučić hopes his excellent relationship with China and Russia will boost his approval rating while the EU mishandled much of the pandemic crises. His vaccine campaign is solid political ammunition against the Serbian opposition, especially as EU countries struggle to procure and administer vaccines. The President's successful diplomatic efforts to procure vaccines is something he and his political party present as a great accomplishment.
Zoran Radovanović, a veteran Serbian epidemiologist, said, "Our rollout has been better than anywhere in Europe…and objectively that's because we went to China for vaccines."
Although the European Union allocated about 94 million euros to Serbia in grants, surveys show that the public is skeptical of the EU's competence in fighting the pandemic. When observing Serbia's management and comparing it to Europe's, this is somewhat clear.
Vuk Vuksanović, a researcher with the London School of Economics and Political Science, argues that Serbia played a crucial role in improving China's image in the world.
"When other European countries are inspired by Serbia to buy Chinese vaccines, then China's foreign policy of boosting its soft power and buying influence is working," Vuksanovic claimed.
Serbia also began a regional campaign to ship the Sinopharm vaccine to Bosnia, North Macedonia, and Montenegro. Serbia also allowed health workers from the Serb-dominated entity of Republika Srpska to receive vaccinations in Serbia. To date, Serbia received millions of euros worth of medical supplies and two million doses of the Sinopharm.
Belgrade also plans to manufacture Sinopharm in Serbia to further reinforce the country as a Balkan distribution hub. President Vučić announced that an agreement for the construction of a 'vaccine factory' will be signed shortly, and that Serbia will produce vaccines as soon as October 15. With Europe still fumbling with vaccine challenges, Belgrade could further support its neighbors to improve its image among the nations of the former Yu