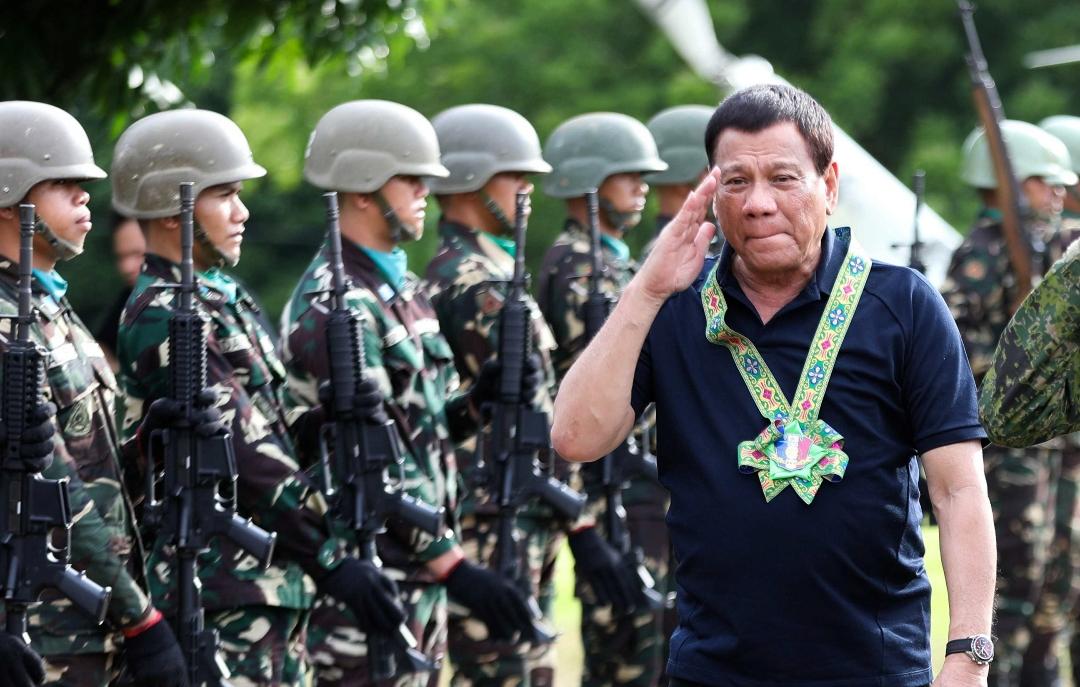 The Philippines' tough-talking president Rodrigo Duterte has entered his second year in office with a heavy dose of sobriety and more mature strategic outlook. In many ways, it has been a tough, yet enlightening learning curve for the former provincial mayor, who had little experience in global affairs and rarely left his bailiwick in Mindanao throughout decades of public service.
During his first year in office, Duterte, who ran on an anti-establishment platform, tried to shake up the whole political system by reorienting his country's domestic and foreign policy traditions. At home, he launched a direct assault on the Philippines' liberal democratic tenets – particularly human rights – by conducting a brutal campaign against illegal drugs, which has been heavily criticized by Western nations, liberal media and human rights groups. Externally, he painfully sought to reorient the Philippines' strategic compass, lashing out at the West with sound and fury, while praising Beijing and Moscow as friendly nations.
Despite his age and concerns over his health, Duterte fast became the Philippines 'most travelled president', visiting 17 countries throughout 21 foreign trips, piling up over 77,542 miles within less than 12 months. He has visited China twice, in October and May, and became the first Filipino president in recent memory to conduct a state visit to Moscow, where he met Vladimir Putin. Conspicuously though, Duterte has yet to visit any major Western nation, including the United States, which has been the top and usually first major foreign destination for Filipino presidents.
Just to put things into perspective, former president Gloria Macapagal-Arroyo (2001-2010), Duterte's major ally, visited the United States as many as eighteen times during her tenure, followed by Benigno S. Aquino III (2010-2016) and Fidel V. Ramos (1992-1998), who visited the country's sole treaty ally seven times in six years. Duterte's hyperactive diplomacy, and his choice of foreign destinations, clearly signaled the Filipino president's strategic preference, namely reduction of the Philippines' reliance on Washington in favor of warmer and less deferential ties with alternative poles of power. There were five reasons behind his strategic re-orientation.
First is his personal antipathy towards America, especially in light of some dark experiences during his tenure as mayor of Davao, in addition to the rumored (albeit unverified) rejection of his visa by American authorities. Beyond personal beef, Duterte's 'socialist' tendencies, and long-term friendship with far-left and revolutionary leaders, including Communist Party of the Philippines' ideologue and former professor Jose Maria Sison, came along with some ideological enmity towards the West, particularly America.
Third, Duterte rightly put into question the utility of his predecessor's overreliance on Washington, which repeatedly equivocated on the extent of its security commitments to the Philippines, particularly in the South China Sea. In short, Duterte realized that the Philippines was being taken for granted by Washington. Fourth, there is a direct correlation, if not causation, between Duterte's personal insults and tirades against America, on one hand, and the Obama administration's open criticism of his signature policies, particular the war on drugs, on the other. Finally, Duterte was not only interested in avoiding war with China over disputed land features and maritime resources, but also sought Beijing's capital and technology to revamp the Philippines' decrepit public infrastructure. As for Russia, Duterte sought more affordable sources of arms supply to modernize the Philippines' military.
Yet, despite his best efforts, Duterte has arrived at three key realizations after his first year in office. First and foremost, it has become increasingly clear that Duterte, despite his popularity and strongman aura, doesn't have the power to unilaterally shape his country's defense policy. Time and again, not only has he been openly contradicted by senior defense officials, but he also had to appease the defense establishment by revisiting his earlier policies. Crucially, Duterte has had to ramp up the appointment of former and current military men to senior offices as a way to appease the men in uniform, who remain largely suspicious of China, have a long history of interoperability with America, and who have opposed Duterte's outreach to communist rebels.
Six former and current Armed Forces of the Philippines chiefs of staff have been appointed to cabinet positions, with as many as fifty-nine former military and police officials currently occupying key positions in the Duterte administration. Duterte's (reluctant) deference to the military was clearly on display during the recent crisis in Mindanao, when the Philippine military seemingly sought American military assistance without consulting the president. At one point, he half-jokingly admitted, "the military would oust me," if he didn't take their views on sensitive issues, particularly peace negotiations with communist rebels, into consideration.
Duterte's second major realization is the limit to which he can distance from America. Amid the specter of Islamic State terror in Mindanao, the Philippines has become increasingly dependent on American military assistance. Not only has the Pentagon provided weapons, training, intelligence via drones, and deployed a unit of Special Forces to Marawi, but it has also ramped up its joint maritime exercises with the Philippine military. At this point, much of the focus is on counter-terrorism, but the Pentagon seeks increased access to Philippine bases and expands its footprint on Philippine soil as its military ramps up its assistance to its Southeast Asian ally.
Finally, and related to the two previous factors, robust and expanding cooperation between the Philippine military and the Pentagon will constrain Duterte's outreach to China, which has consistently opposed growing American military presence in the region. In an effort to reverse this trend, China has offered counter-terror assistance, including $16 million in ammunitions and weapons, as well as humanitarian assistance. There are also discussions of joint-exercises and intelligence-sharing between the two neighbors.
Despite China's best efforts, however, the country remains deeply unpopular among the Filipino people and, perhaps even more so, among the Philippine military, which sees China as a major strategic threat in the South China Sea. China's expanding military footprint in the Spratly chain of islands – particularly in the Fiery Cross, Mischief Reef and Subi Reef – where the Manila claims nine land features, is bound to rattle the Philippine defense establishment, which sees America as the best insurance policy in an event of conflict in the region. Not to mention, the Scarborough Shoal could also serve as another major flashpoint if and when China decides to build military structures on the Philippine-claimed land feature. In short, there are major constraints on how far China and the Philippines can upgrade their current relations.
With Philippines marking the first year anniversary of its landmark arbitration case against China, Duterte is bound to come under public pressure for not raising the verdict in his bilateral engagements with China as well as in multilateral fora such as the Association of Southeast Asian Nations, which is currently chaired by the Philippines. As former U.S. President Barack Obama warned in his farewell speech, "[R]eality has a way of catching up." This is exactly what Duterte has to content with as he enters his second year in office. At this point, he can still try to maintain a dynamic equilateral balancing strategy towards the two major powers without necessary aligning with or disaligning from any of them. This is his best chance at achieving some semblance of an 'independent' foreign policy.