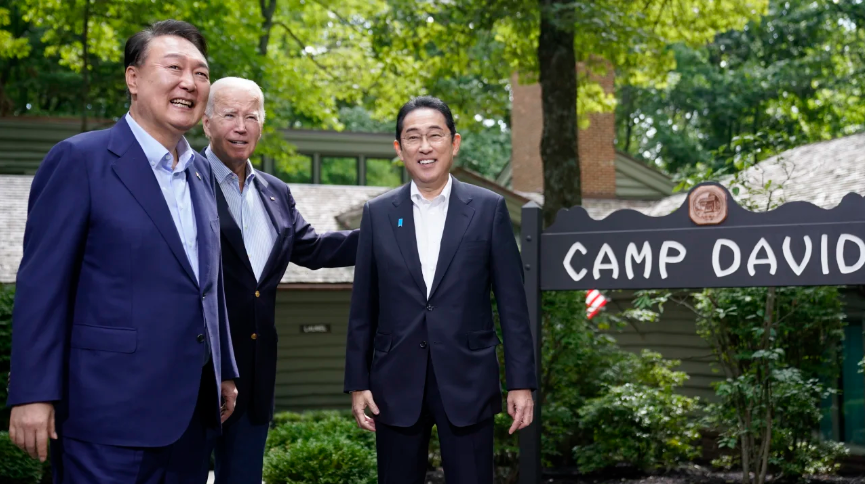 From left, South Korean President Yoon Suk Yeol, US President Joe Biden and Japanese Prime Minister Fumio Kishida meet at Camp David on August 15. Photo: Andrew Harnik/AP
The Indo-Pacific has become a hotspot of burgeoning geopolitical tensions that have the potential to rapidly escalate. This new status quo has brought forth uncertainty and unease in the region, highlighting the need for like-minded partners to unite to confront these threats. The Biden administration has leveraged this mindset to champion closer relations between crucial allies. Thus, over the past year, against all odds, we have witnessed South Korea and Japan put aside their differences and develop closer ties.
Biden's efforts culminated in a trilateral summit meeting between the U.S., Japan, and South Korea on August 18th at Camp David. The summit was an opportunity for "the leaders to celebrate a new chapter in their trilateral relationship as they reaffirm their strong bonds of friendship and the ironclad alliances." Beyond strengthening and affirming their military alliance, the summit also allowed the leaders to discuss a shared vision for the region, which encompasses ensuring economic propensity, continuing to promote a rules-based international order, and engaging with other regional actors—such as ASEAN.
The successful organization of this summit resulted from a collective endeavor by all three nations to enhance their relationships and cultivate increased cooperation. Just a few years ago, the prospect of this meeting seemed nearly impossible to achieve. However, under the Biden administration, the U.S. has increased its efforts to bridge the gap between South Korea and Japan, as it's been further understood that South Korea and Japan are vital for Washington's strategic plan for the region.
Importance of South Korea and Japan
President Yoon Suk Yeol of the Republic of Korea has stated his desire to transform the country into a "global pivotal state," and Asia Society has referred to the nation as a Middle Power Powerhouse. At a recent G-7 summit in May, Yoon, who is only the second South Korean president to attend the summit, used the opportunity to showcase Korea's growing global importance and held bilateral meetings with Japan, Australia, the United Kingdom, Vietnam, Indonesia, India, Comoros, and Ukraine. South Korea's role as an arms dealer has also increased in the past few years. Since the start of the Ukraine war, South Korea has sold over $3 billion in arms to Poland, and its arms sales jumped from $7.25 billion in 2021 to $17 billion in 2022.
Additionally, the United States and South Korea are, for the most part, aligned on regional issues. This includes Yoon's increasingly vocal pushback against Chinese complaints regarding the expansion of the ROK-U.S. military relationship—accentuated by the U.S. deploying nuclear submarines to Korea. Relations with South Korea have also primarily centered on curtailing North Korea's nuclear ambitions. To this end, the Biden administration has reactivated high-level consultations on extended deterrence and expanded the scope and scale of military exercises.
South Korea has also sought to deepen relations with ASEAN. Korea can provide an alternative in development to either China or the U.S. This allows regional actors to circumvent the geopolitical competition occurring and still obtain crucial development assistance. From the perspective of the U.S., this allows one of its alliance partners to expand its regional influence without direct engagement.
In terms of Japan, the country has been the United States' most important partner in the region and is the cornerstone for U.S. security interests. The U.S. coordinates with Japan on major matters, including North Korea and China, and they are also partners in the Quad (along with Australia and India). Since 2010, Japan has adopted a more assertive foreign policy and security posture, allowing the U.S. more flexibility in the region. Unlike South Korea, Japan has territorial disputes with China (the Senkaku/Diaoyu Islands), which has contributed to Japanese officials distrusting their Chinese counterparts for some time now.
The U.S. and Japan have also sought to improve their military operation capability since the early 2000s, and the U.S. has a large military presence in Okinawa.
In 2022, current President Fumio Kishida released three security documents that have the potential to reshape Japan's security infrastructure. It has already pledged to increase defense spending to 2% of its GDP. At the behest of the U.S., Japan has also increased military relations with other countries, particularly Australia, the United Kingdom, India, and the Philippines.
Japan plays a crucial role in Southeast Asia as well. In ISEAS-Yusof Ishak Institute's annual survey of regional elite perceptions, Japan has consistently been ranked the region's number one trusted partner. Japan also has a long history of providing development assistance, as well as rhetorical and material support that helps ensure territorial integrity amongst the region's nations. Additionally, the domain is an essential arena for its "Free and Open Indo-Pacific" (FOIP) strategy, originally coined under former Prime Minister Shinzo Abe. This year marked the 50th anniversary of ASEAN-Japan ties.
The Summit
President Biden welcomed Japanese Prime Minister Kishida and South Korean Prime Minister Yoon Friday to Camp David for the first-ever stand-alone summit between the three leaders. The summit cemented the alliance and reaffirmed cooperation between officials at all levels of government. In addition to an annual Trilateral Indo-Pacific Dialogue, Foreign Ministers, Defense Ministers, Commerce and Industry Ministers, and National Security Advisors will meet annually. The three countries also agreed to increase defense cooperation. This effort includes multi-year trilateral exercise plans, countering cyber activities, information sharing, and improving coordination on ballistic missile defense.
Cooperation will not only be limited to security issues. The leaders also intend to coordinate economic, health, and people-to-people ties. This includes strengthening collaboration between financing institutions and advancing a humanitarian response policy dialogue. Crucially, the three countries will endeavor to set technology standards and promote common principles to ensure "safe, secure, and responsible development and applications of emerging technologies, including artificial intelligence."
In a joint statement, the three leaders also made a point to mention other regional actors. This includes reaffirming ASEAN's centrality, supporting a more climate-resilient Mekong Basin, and supporting Pacific Islands.
Challenges and Progress in Strengthening the Bond
Not long ago, uniting Japan and Korea appeared immensely challenging. Much of this animosity stems from Japan's actions towards Koreans during the Second World War. In 2015, Japan put forth an agreement intended to address its actions during World War II and put an end to the dispute. However, a 2018 ruling by the Korean courts stated that not all workers were properly compensated.
The agreement's controversy further strained relations between the two countries. Temporary ramifications included former Japanese Prime Minister Shinzo Abe removing South Korea from the list of trusted export destinations that, in turn, restricted the export of goods needed by South Korean companies to produce semiconductors. South Korea also stated it would halt its participation in a military-intelligence sharing agreement with Tokyo (which they eventually relented on due to U.S. pressure).
Despite the lingering historical tensions that have curtailed diplomatic and military interactions between Japan and South Korea, this year has produced a shift in this trend. Most significantly, in March, the two countries announced a de facto resolution to the grievances surrounding conscripted labor. As part of the agreement, the Korean government will compensate 15 workers who won a lawsuit against Japanese companies through a public foundation. The Japanese government announced it would lift the export controls on Korean companies, and the chairman of Japan's largest business federation, the Keidanren, signaled that Japanese companies would contribute to the foundation. The two governments also signaled that they would resume defense dialogue and strategic talks at the vice minister level.
Why Now?
The situation in the Indo-Pacific has changed, and South Korea and Japan can no longer afford to maintain strained relations. As Frank Aum from the United States Institute of Peace stated, "With both countries facing similar challenges in recent years — including Chinese coercion, North Korean belligerence, weak economic growth, inflationary pressure, supply chain resilience and climate change — there is significant incentive for the two to work together."
China has become increasingly assertive in its foreign policy and security prioritization, as seen with its recent actions in the South China Sea. It has also continued to rhetorically and materially support Russia's invasion of Ukraine and lure Global South countries to support Beijing's narrative on many issues. On the brink of the summit, Russian and Chinese warships sailed close to Japanese islands in a clear message to the U.S., Japan, and South Korea.
North Korea has also been a significant problem for both South Korea and Japan. As recently as last month, North Korea launched an intercontinental ballistic missile, the Hwasong-18. The missile landed near Japanese waters and came after Pyongyang threatened to shoot down U.S. reconnaissance aircraft. North Korean leader Kim Jong Un oversaw a ballistic missile test on August 21 as South Korea and the U.S. began annual military drills.
Conclusion
The evolving landscape of the Indo-Pacific region necessitates a profound reevaluation of the relationship between South Korea and Japan. With escalating challenges posed by China's assertiveness and North Korea's belligerence, the imperative for cooperation among these nations has grown stronger. President Biden's efforts to bridge the divide between Japan and South Korea underscore a critical shift in their relations. This transformation comes after years of historical animosity and intermittent tensions, which have hindered diplomatic and military collaboration. Thus, sustaining rapprochement will not be easy. Japan's and South Korea's domestic populace have pushed back at warming ties, and issues continue to pop up periodically. Additionally, China will do everything it can to prevent closer cooperation between the countries. This effort includes the head of China's foreign affairs, Wang Yi's recent attempts to advocate for renewed relations between China, Japan, and South Korea.
Nevertheless, while obstacles remain, the pressing need to address regional security, economic resilience, and maintain a rules-based international order necessitates a united front. The trilateral summit symbolizes a pivotal juncture for these nations to forge a more cohesive and strategic alliance, underscoring the importance of collective action in navigating the complexities of the Indo-Pacific landscape.