A community space to discuss the China-U.S. relationship and beyond.
Dear Focus Reader,
As U.S. President Joe Biden and other world leaders gather in Delhi for the G20 Summit this weekend, one notable absence will be Chinese leader Xi Jinping, marking the first time he hasn't personally attended since 2012. Instead, the Chinese delegation will be led by Premier Li Qiang. Biden expressed his disappointment over Xi's absence and hinted at a potential meeting in the near future. While he did not elaborate, the next likely opportunity for a Biden-Xi meeting is at the Asia-Pacific Economic Cooperation (APEC) summit in San Francisco in November.
This weekend's G20 meeting follows the 26th ASEAN Plus Three meeting and the East Asia Summit, where both Chinese Premier Li and U.S. Vice President Kamala Harris were present. At the ASEAN Plus Three gathering, Premier Li encouraged ASEAN, Japan, and South Korea to support Hong Kong's RCEP trade deal bid, manage differences with China, and avoid a "new cold war."
These discussions occurred in the backdrop of Japan's decision to release treated wastewater from the Fukushima nuclear plant into the Pacific Ocean, which has prompted diplomatic tensions with Beijing. China has voiced strong opposition to Japan's wastewater disposal and recently announced a ban on all seafood imports from Japan. China is the largest overseas market for Japanese seafood.Experts note that the overall impact on trade will remain limited unless China extends its restrictions to other trade sectors.
We invite you to explore our latest Focus content, including articles covering the recent BRICS Summit in South Africa, the trilateral meeting involving the U.S., Japan, and the Republic of Korea, the proposed U.S. legislation, the "Taiwan International Solidarity Act" (TISA), and the state of China-Philippines relations.
Thank you for your continued support of our platform. Have a wonderful weekend!
Team Focus
Focus Insights
Quote of the Week
"A key question is how much the rest of the world, which has long benefited from China's huge contribution to global growth, will suffer from its structural slowdown."
Alicia Garcia Herrero
Senior Fellow, Bruegel
Notable Number
$64.1B
The total trade value between Hong Kong and its now third largest trading partner, the U.S., in 2022.
Read more from Li Huan, Deputy Director at CICIR's Institute of Hong Kong and Macao Studies, and Distinguished Research Fellow, Xiamen University in "Will Hong Kong Chief Attend APEC?"
Beyond Our Shores
Join Our Online Event: The New China Playbook
September 11, 2023 / 9-10 am ET U.S.
As China recently supplanted the United States as the world's largest exporter of goods, it's important to understand the key steps to promote successful relationships between U.S.-based companies and China.
Join us to hear from Dr. Keyu Jin, whose recently published book - The New China Playbook: Beyond Socialism and Capitalism - is already causing a stir and bringing new insights to those who would like to better understand the China of today. A Chinese economist educated both in the U.S. and China, Dr. Jin is currently an associate professor of economics at the London School of Economics and a World Economic Forum Young Global Leader. She specializes in international macroeconomics and the Chinese economy.
This special event is made possible through the collaborative efforts of the China-United States Exchange Foundation, the US Heartland China Association, and Global Minnesota.
"The most important book on China in many years, written with stunning eloquence and clarity. Jin does not cover the warts, but insists on a holistic view. Anyone who wants to understand China, and how to engage with it economically and politically, will greatly benefit from this deeply original book."
-Kenneth Rogoff,
Maurits C. Boas Chair of International Economics, Harvard University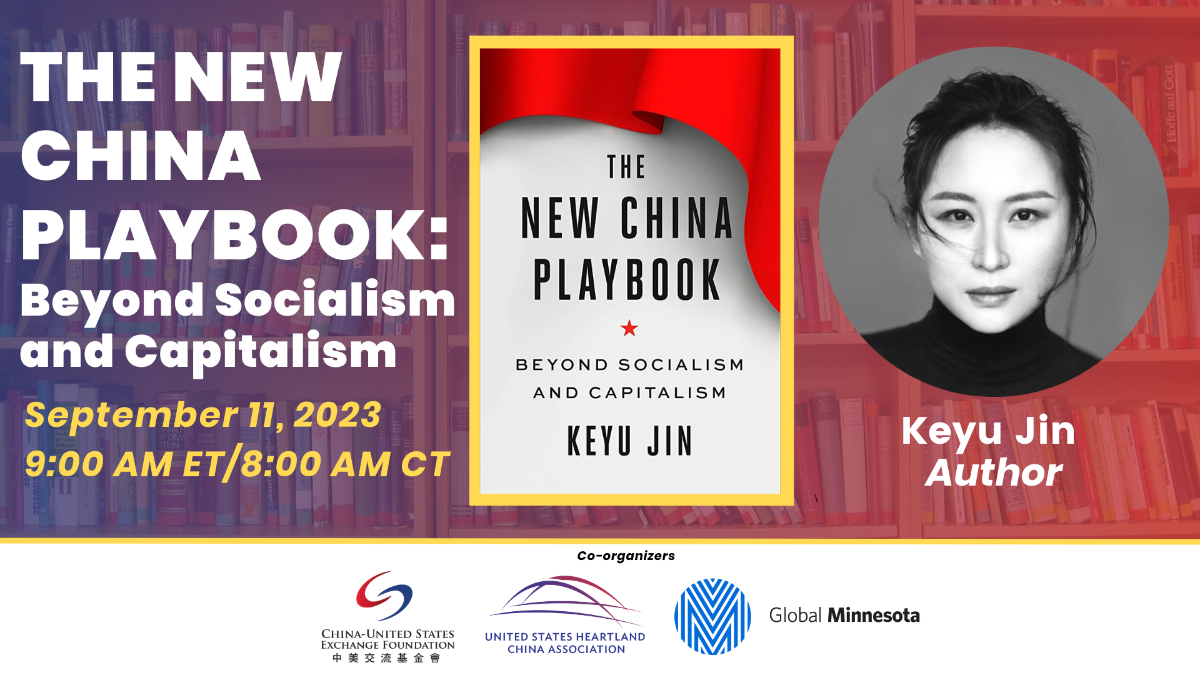 Discover More
Tiny Trees, Big Impact | How Bonsai is Contributing to Environmental Conservation
Watch Video
Culture Contributor Tasmine Little shares how Bonsai growing supports the environment and is viewed as a symbol of harmony and balance.
Community Connections