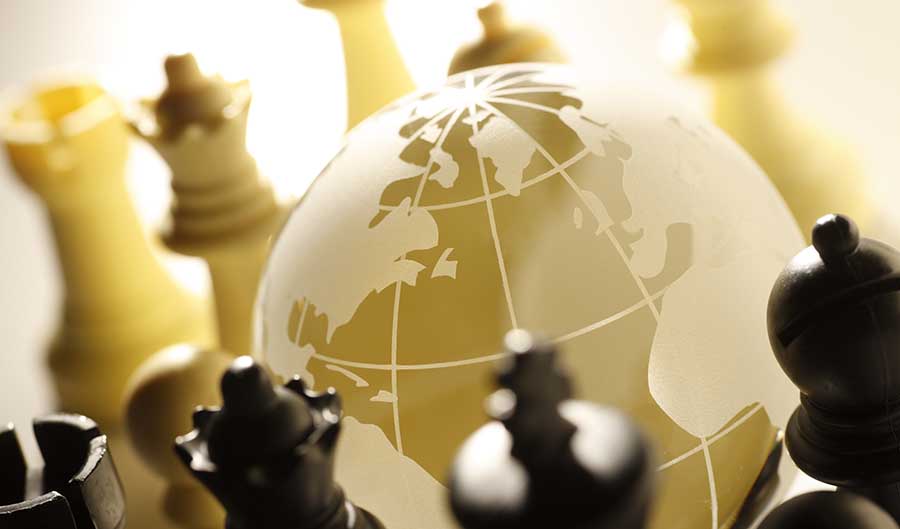 The administration of U.S. President Joe Biden had two diplomatic priorities in 2022: coping with the Russia-Ukraine conflict and pressing ahead with strategic competition with China. Diplomatic maneuvering on these two fronts will likely continue in 2023.
Meddling in conflict
Shortly after the Russia-Ukraine conflict broke out, the U.S. declared it would provide the latter with weapons and military equipment — portable anti-tank and air-defense missiles such as Javelins and Stingers, large-caliber howitzers, high mobility artillery rocket systems, armored vehicles and precision guided weapons and munitions. These have continuously flowed into Ukraine. In addition, the U.S. has provided Ukraine with considerable intelligence and military training support, including the "lend-lease" program Biden signed in May, which greatly simplified the procedure for the U.S. to provide military aid and other "necessary resources" to Ukraine. Beyond that, Washington has actively promoted allies' various offers of support for Ukraine. Those from the European Union have amounted to nearly 50 billion euros.
It is only such massive support by the U.S. that has made it possible for Ukraine to successfully fend off Russia's first wave of military offensives, gradually reverse the battlefield situation and drag the conflict into a stage of seesaw battle and exhaustion, which is the last thing Russia wanted to see. The U.S. goal has also turned from helping Ukraine fend off Russian military offensives to weakening Russia as much as possible. The Russia-Ukraine conflict is increasingly taking on the clear characteristics of a proxy war.
To pressure Russia, the U.S. and its European allies have mainly adopted two means. One is imposing intensive economic sanctions — the speed, scope and forcefulness of which are unprecedented in the post-Cold War era. The sanctions have mainly taken the form of a financial onslaught, including the freezing of assets, cutting off fundraising channels and blocking financial transactions. This has been supplemented by measures such as control over trade in high technology, terminating significant projects and cutting off personnel exchanges.
Washington has tried to deal a heavy blow to Russia's economic foundation and its military and financial capacity for sustaining the war through moves in finance, energy and technology. It hopes this will cause Moscow to shrink back.
The second means of attacking Russia is isolating it as much as possible diplomatically and weakening its international status and reputation. The U.S. has taken advantage of such occasions as NATO meetings and U.S.-EU and G7 summits to coordinate positions on Russia. It has tried to get the UN to pass corresponding resolutions to create an international united front against Russia. The U.S. also attempted to kick Russia out of the G20 and, after an abortive attempt, boycotted the G20 meeting because of Russia's attendance.
Despite the unprecedented economic sanctions and diplomatic suppression by the U.S. and its allies, the outcomes have fallen short. The Russian economy has withstood the tsunami-like Western sanctions. Although Russia's GDP shrank by 3 percent in 2022, its economy has yet to collapse. With strong macro control policies, Russia has maintained stable financial order at home, and the ruble's exchange rates against the U.S. dollar and euro both rose above levels at the end of 2022.
Diplomatically, many members of the international community have not joined in sanctions. Many countries have not voted to support UN resolutions on the conflict in Ukraine. And Washington has failed to accomplish its goal of making some countries follow its lead, revealing the limits of U.S. international influence and the reality of pluralism in international politics.
As the conflict in prolonged and sanctions backfire, dissatisfaction within the U.S. and West generally is rising, testing the sustainability of support for Ukraine and sanctions against Russia. More important, Western sanctions and suppression have not changed Russia's determination. The conflict is not only settling into a long-term status but also shows a risk of further escalation and getting out of control.
Suppression of China
The Biden administration's containment and suppression of China relied mostly on "three cards" in 2022: the Russia-Ukraine conflict, Taiwan and sci-tech.
After the outbreak of the Russia-Ukraine conflict, the U.S. first wanted to pressure China into taking its side, condemning Russia and supporting international sanctions. Failing that, Washington spread rumors that China knew of Russia's planned "special military operation" in advance.
Then, after the U.S. and its allies strengthened sanctions and the conflict entered a long-term phase, the U.S. mounted pressure on China to prevent it from helping Russia dodge sanctions and from providing military aid. Meanwhile, by promoting the twisted narrative of China and Russia challenging the "liberal international order," the U.S. attempted to smear China's international image, drive wedges between China and Europe and promote a NATO version of America's Indo-Pacific Strategy.
Washington also raised forcefulness of its interference in Taiwan. The Biden administration believes that changes in the cross-strait situation mean that the U.S. should adjust the framework of its Taiwan policy. On one hand, it has upgraded its support for Taiwan, while pushing to strengthen what it believes is deterrence against the Chinese mainland. For instance, Washington sent high-level delegations to Taipei to send appeasing messages, conduct what it called "strategic dialogue" with Taiwan and discussed military cooperation. It is selling more advanced weapons and equipment to Taiwan, providing military training support and forging closer economic links with the island.
On the other hand, Washington's Taiwan policy has grown dramatically more provocative and adventurous. The U.S. has proactively enhanced its military deployments in the western Pacific, rallied allies to intervene on the Taiwan issue and sought to expand Taiwan's "international space." As the American base camp of pro-Taiwan forces, the U.S. Congress has also made a series of moves.
In a counterattack against then-U.S. House Speaker Nancy Pelosi's seriously provocative visit to Taiwan, the Chinese side imposed sanctions against her and her relatives. With the U.S. government's administrative and legislative branches joining hands to make trouble, China implemented eight countermeasures against the U.S. and conducted large-scale military drills off Taiwan.
Preserving scientific and technological advantages against China has been deemed key to the U.S. maintaining economic and military superiority in its strategic competition. U.S. National Security Adviser Jake Sullivan said that critically important technologies include information technology, biotechnology and bio manufacturing, as well as new-energy technologies. The focus of U.S. technological suppression of China has been the semiconductor sector, with the most representative move being the U.S. Commerce Department's Bureau of Industry and Security announcing new microchip export controls, restricting global semiconductor companies from sales of any chips for supercomputing, artificial intelligence and quantum computing. The ban also covers production equipment, critical materials, software development tools, services and talent. Overall, it has been the most wide-ranging and severe set of containment policies the U.S. has ever employed against China's semiconductor industry.
However, in practice, the Biden administration's China policy — which focuses on containment and suppression — has constantly run into a wall.
First is the resolute resistance and pushback from China. U.S. pressure on China over the Russia-Ukraine conflict has neither changed the Chinese side's principled position on the matter nor prevented the normal development of China-Russia relations. America's provocations on Taiwan have seen resolute countermoves from the Chinese side, which still holds the initiative and dominance in the cross-strait situation.
Second is criticism from the U.S. business community, which thinks highly of the Chinese market and hopes to develop economic and trade ties. It is deeply disappointed with the Biden administration's failure to handle relations with China well. Maurice Greenberg, former AIG chairman and CEO, even launched a dialogue between former Chinese and American officials and business figures in a bid to promote improvement in China-U.S. relations.
Third is the contradiction between suppressing China and some of the Biden administration's diplomatic goals. Be it climate change, food security, energy security or regional or international hot spot issues, Washington can't do without collaborating with China. It is difficult for Washington to suppress China while expecting China's cooperation when it needs it.
Chinese and U.S. leaders met in Bali, Indonesia, in November — the first face-to-face meeting between the two since the Biden team took office. In the meeting, which lasted more than three hours, the two sides exchanged ideas on strategic issues in China-U.S. relations and significant global and regional issues. The talks were said to be candid and constructive and improved the bilateral atmosphere. They led to the two countries re-engagement in pragmatic collaboration in some specific fields and a plan to create a road map for development of relations. The Biden government actively pushed for the meeting, indicating it is willing to adjust America's China policy to some extent, but we will have to wait and see how far any adjustment will go.
Mission impossible
The Biden administration can be expected to continue following its policy of fighting on two diplomatic fronts. In Europe, the U.S. will continue to press for support of Ukraine, helping to cause as much damage as possible to Russia on the battlefield. Yet, once there is a reversal in the war, and Ukraine reaches the limit of its capacity to fight, Washington may turn to a push for a truce and peace talks. In Asia, the U.S. will continue proceeding with its policy of containment and suppression of China, putting special emphasis on its technology blockade and the Taiwan issue.
The focus of U.S. diplomacy remains Europe, because the situation in Ukraine is more pressing; it concerns the strategic order of the European continent. In relations with China, the Biden administration's duality is even more conspicuous: On one hand, it wants dialogue; on the other it insists on containing China. On one hand, it talks about cooperation; on the other, it makes trouble.
In the new year, China and the U.S. will have more contact and dialogue than they did last year. There may be more collaboration and coordination on specific issues, and relations may show signs of improvement and easing in some aspects. But since the U.S. has made up its mind about its basic China strategy, U.S. domestic politics may create interruptions. The momentum of improvement and easing remains unstable and disjointed.
The Biden administration claimed in its 2022 National Security Strategy that the U.S. now faces two major strategic challenges. One is major power competition; the other involves cross-border issues such as climate change, infectious diseases, terrorism, food and energy. The Biden government has seen difficulties in dealing with cross-border issues in a competitive international environment. Rising geopolitical turbulence, nationalism and populism have made international cooperation ever more difficult. However, the Biden administration has not realized, or is unwilling to acknowledge, that it's an impossible mission for the U.S. to suppress both China and Russia at the same time in the name of major power competition.
In a dramatically changing world, the U.S. lacks the strength and influence to contain both. If the Iraq and Afghanistan wars once resulted in a strategic overdraft for America, its current attempts to suppress China and Russia mean sinking itself into bigger troubles. The Ukraine war in 2022 and the large-scale military drills off Taiwan were loud warnings for the U.S. If Washington turns a deaf ear to this, it inevitably will make greater strategic mistakes.