Racial and ethnic tensions loom larger in the world today than the power or policies to reconcile them. China has a long way to go in that regard. Given the absence or scarcity of public discourse on these challenges domestically and strong criticism from abroad –– especially from the United States and European countries –– of the treatment of Uygurs in Xinjiang, Beijing has been on the defensive as it faces ongoing international scrutiny and sanctions.
U.S. Secretary of State Antony Blinken, who is also known for his candor about the existence of systemic racism in the United States, recently made a widely circulated speech in which he addressed this issue in China. In his words, China's treatment of ethnic and religious minorities in Xinjiang and Tibet goes "against the core tenets of the UN Charter that Beijing constantly cites."
The Chinese leadership will continue to reject these accusations and criticisms from Washington. But substantial damage to China's international image requires that Beijing do something significant. Uprisings and violent conflicts in Xinjiang and the Tibetan region of China during the past decade have highlighted the challenges that the Chinese Communist Party (CCP) faces in governing a Han-dominated but multiethnic China. How Beijing handles the "ethnicity issue" in what Chinese often perceive as the periphery regions will be a crucial factor in maintaining social stability at home and the need to improve the country's image abroad.
It is unclear whether — or how — the upcoming 20th Party Congress will address the challenges of governance in China's ethnic minority regions, especially Xinjiang. Interestingly, the recent appointment of Ma Xingrui (1959), former governor of Guangdong, as Party chief of Xinjiang, reflects Beijing's recognition of the great importance of this set of issues. Ma is also widely seen as the "first newcomer" to have secured a seat in the next Politburo this fall. With his tremendous political and economic resources, Ma has already made some policy moves — mainly in the socioeconomic front — in Xinjiang.
Equally important, the public in China (especially the ethnic minority population) and the international community will pay much attention to ethnic minority representation in the leadership formed at the upcoming 20th Party Congress. The selection of ethnic minority leaders will, of course, depend first and foremost on their political loyalty to the Party. Nevertheless, the lineup of ethnic minorities at the national and provincial levels of CCP leadership can reveal the change and continuity of institutional norms and rules regarding ethnic minority representation, which have been in practice since the Deng era.
Beijing's perspective and its approach
From the perspective of the Chinese leadership, the People's Republic of China (PRC) is a multiethnic country with 56 ethnicities including an overwhelming majority of Han people. According to the 2020 Chinese census, Han Chinese account for 91.1 percent of the total population. This ethnic distribution differs greatly from the former Soviet Union, where Russians accounted for just about half of the population (50.8 percent) in 1989, before the Soviet Union collapsed.
The CCP leadership has been deeply suspicious about the motivations of Western countries to address ethnic rights and human rights in China. Chinese leaders believe that the objective of what they perceive as "anti-China forces" is to promote various separatist movements, seeking to separate Xinjiang, Tibet, Inner Mongolia, and other regions from the PRC. As some foreign scholars have observed, the CCP's sensitivities have led to hardline policies in ethnic minority areas.
It should be noted that Beijing's ethnic minority policies have long been known for carrying both "sticks and carrots." While the CCP leadership has not compromised in its crackdown on what it calls "ethnic separatists" and "religious extremists," it has recognized the value of including ethnic minority members among Party-state elites, both for propaganda purposes and for inspiring minority groups to view the system as affording opportunities for their own political advancement. Recruiting and training ethnic minority cadres has been a continuous effort across different generations of CCP leaders, going back to the founding of the PRC in 1949.
Arguably the most important institutional development took place in the mid-1980s when reformist leader Hu Yaobang served as general secretary of the CCP. In 1984, the National People's Congress (NPC) passed the "Law of Ethnic Minority Autonomous Areas of the PRC." This law, which was more explicitly specified in its amendment in 2001, stipulates that the top local government post in ethnic minority autonomous areas (from the township level to the provincial level) should be held by a leader from the same ethnic minority background as the majority of citizens in that area. Second only to Party secretaries, the heads of local governments have significant power over decision-making and the management of regional affairs.
China has 155 ethnic minority autonomous areas, including 5 provincial-level regions, 30 prefectures, and 120 counties. According to the Chinese government, all current heads of local governments in these areas are non-Han. In fact, since the implementation of the Law, this particular institutional rule has never been violated at the provincial level. Furthermore, revisions to the Law in 2001 reclassified the system of regional ethnic autonomy from a Chinese political institution deemed "important" (zhongyao) to one that is considered "fundamental" (jiben), underlining the steady institutionalization of the process for selecting ethnic minority leaders.
According to a recent official report, the number of ethnic minorities who are CCP members surpassed 7 million as of June 2021, while the proportion of ethnic minority Party members has increased from 2.5 percent in 1949 to 7.5 percent at present. Leading up to the 20th Party Congress, the leadership has enhanced its efforts to recruit ethnic minority members, evidenced by the fact that about 450,000 joined the Party between January 2020 to June 2021, accounting for 9.5 percent of new recruits.
Ethnic minority representation in the CCP leadership: Past and present
At China's national and provincial levels of leadership, the selection of ethnic minority leaders is bound more by political connections and informal norms than professional credentials and explicit rules. Table 1 provides an overview of the ethnic minority representation in the CCP Central Committees (CC) since the founding of the PRC. In the seven CCs that have formed since the 13th Party Congress in 1987, ethnic minorities have consistently constituted around 10 percent of the membership (including both full members and alternate members). Furthermore, this proportion is almost double the average of the five prior CCs, illustrating the Party's increased attention to maintaining a stable ethnic minority presence in this important body. In terms of ethnic distribution, the 19th CC includes five Huis, five Mongolians, four Tibetans, four Zhuangs, three Uygurs, and three Bais.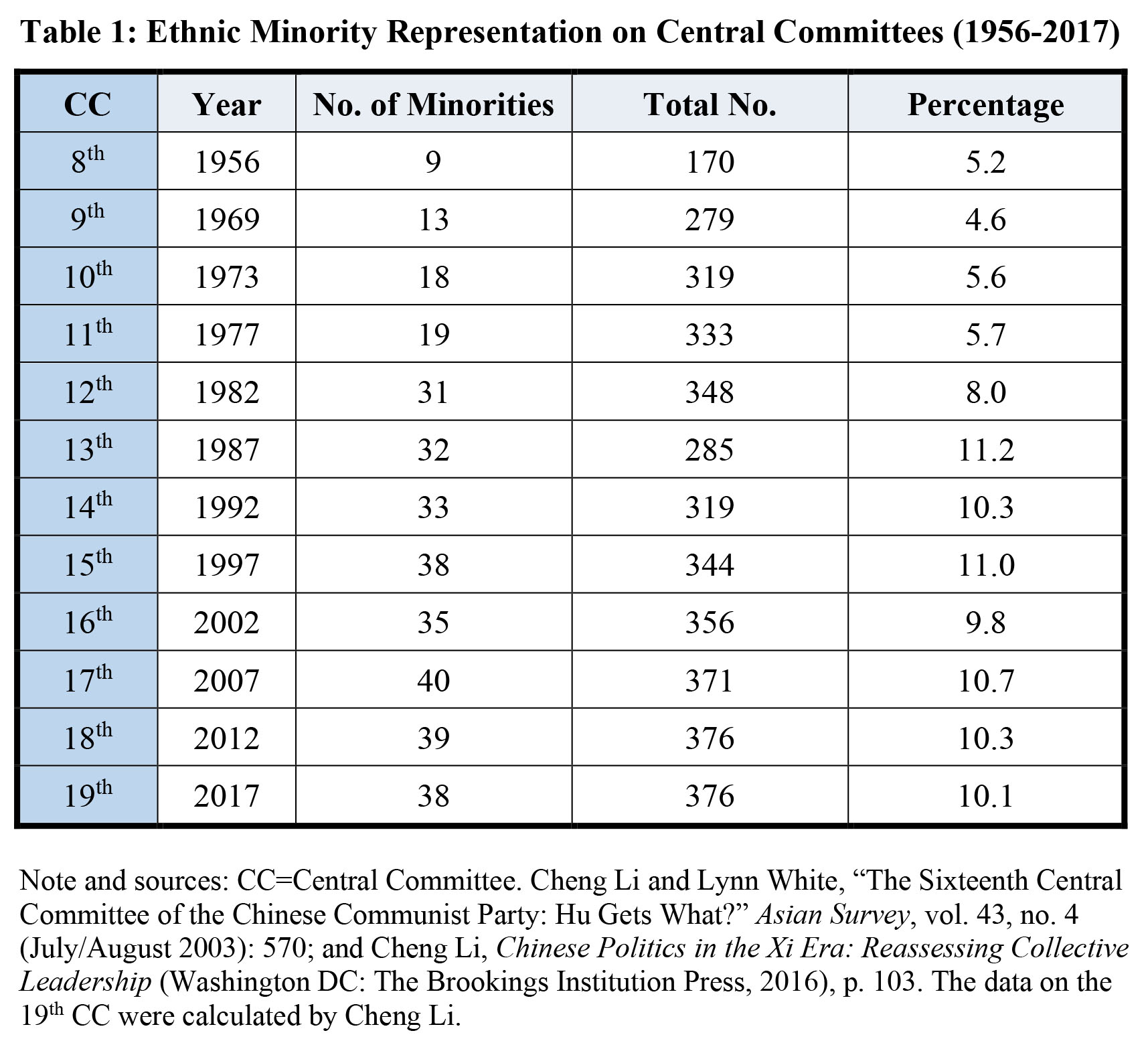 At the top echelon of the Chinese leadership, however, the representation of ethnic minority leaders has been noticeably absent. Most of the ethnic minority leaders on the CC are alternate members. For example, only 10 full members (4.9 percent) of the 18th CC and 16 full members (7.8 percent) of the 19th CC have been ethnic minorities. On these two most recent CCs, no ethnic minority served in the Politburo.
In fact, over the past 35 years, only one ethnic minority leader, former Vice Premier Hui Liangyu, a Chinese Muslim (Hui), has served as a Politburo member. In comparison, in the 12th Party Congress held in 1982, two ethnic minority leaders, Wei Guoqing (Zhuang) and Ulanfu (Mongolian), were selected to serve on the Politburo. The decrease in ethnic minority cadres in the top echelon of CCP leadership in recent decades seems to reaffirm the observation that competition for high offices has become so intense that the rival political camps have decided to buttress their own faction rather than push for ethnic diversity.
In PRC history, ethnic minority leaders have never made it onto the Politburo Standing Committee, the de facto nexus of power in China. For the five ethnic minority autonomous provinces (the Tibetan Autonomous Region, the Xinjiang Uighur Autonomous Region, the Inner Mongolia Autonomous Region, the Ningxia Hui Autonomous Region, and the Guangxi Zhuang Autonomous Region), the region's top post of Party secretary has been given to a Han Chinese over the past 35 years, reflecting Beijing's firm grip on power in minority-populated political units.
Presently, China's State Council does not have any ethnic minority leaders, neither on the executive committee nor among the 26 ministers. For the better part of the past three decades, there has usually been at least one ethnic minority leader serving as a state councilor or a vice premier: for example, Ismail Amat (Uyghur) as state councilor from 1993 to 2003, Hui Liangyu as vice premier from 2003 to 2013, Dai Bingguo (Tujia) as state councilor from 2008 to 2013, and Yang Jing (Mongolian) as state councilor from 2013 to 2018. But no ethnic minority has served on the State Council executive committee since 2018. What is particularly noticeable is the fact that the post of the minister of the State Ethnic Affairs Commission, which has always been held by an ethnic minority leader since 1954, now is held by a Han Chinese.
Other national leadership bodies at present, however, include several minority members in the top leadership. Among the 15 leaders (chair and vice chairs) of the current National People's Congress, China's legislative body, two minority leaders (one Uyghur and one Tibetan) serve as vice chairs. Similarly, among the 25 highest ranking leaders of the Chinese People's Political Consultative Conference (CPPCC), the Chinese government's advisory body, there are three minority leaders (one Tibetan, one Mongolian, and one Hui).
Prominent ethnic minority candidates for the 20th Central Committee
Table 2 presents the 20 leading ethnic minority candidates for membership on the 20th CC this fall. All of them were appointed to their current leadership positions during the past two years, reflecting the fast leadership changes among this elite group. Half of them have not served on the 19th CC. Probably only two of 16 full members on the 19th CC with ethnic minority backgrounds will remain.
As of May 2022, most of the other ethnic minority full members on the 19th CC have already retired or moved to more ceremonial positions. They include former Minister of the State Ethnic Affairs Commission Bater (1955, Mongolian), former Liaoning Party Secretary Chen Qiufa (1954, Miao), former Jilin Party Secretary Bayanqolu (1955, Mongolian), former Inner Mongolia Governor Bu Xiaolin (1958, Mongolian), former Tibet Governor Qizhala (1958, Tibetan), former Xinjiang Governor Shohrat Zakir (1953, Uygur), former Ningxia Governor Wang Zhengwei (1957, Hui), and former Guangxi Governor Chen Wu (1954, Zhuang).
Also importantly, an ethnic minority previously anticipated to be a leading candidate for a seat in the next Politburo, former Tianjin Mayor Liao Guoxun (1963-2022, Tujia), died suddenly in late April 2022. Liao, a member of the 19th Central Commission for Discipline Inspection, served in many key leadership positions in Guizhou (chief of staff of the provincial Party standing committee), Zhejiang (director of the Organization Department), Shanghai (deputy Party secretary), and Tianjin (mayor and deputy Party secretary).
Guizhou Party Secretary Chen Yiqin (1959, Bai) is presently a leading candidate among ethnic minority leaders for the next Politburo. Xian Hui (1958, Hui) recently stepped down from her position as Ningxia governor, and she may continue to serve as a full member on the 20th CC if she is appointed to another important leadership position. All governors of China's five provincial-level ethnic minority autonomous regions have ethnic minority backgrounds, and they will most likely become full members on the next CC based on CCP elite selection norms. Gansu Governor Ren Zhenhe (1964, Tujia) is also expected to obtain a full membership on the CC this fall.
Three ethnic minority leaders currently serve as Party secretaries of provincial capital cities (Lhasa, Taiyuan, and Nanning), and they will likely enter the next CC as alternate members given the importance of these cities. Table 2 also includes four ethnic minority leaders who currently serve consecutively as members and chiefs-of-staff of the provincial Party standing committees in four out of five autonomous regions (namely, Tibet, Inner Mongolia, Xinjiang, and Guangxi). The position of chief-of-staff of the provincial Party standing committee is a stepping stone to further promotion.
Three of these rising stars with ethnic minority backgrounds belong to the 7G age cohort, and the other two were born in 1969. Their age advantage, ethnic minority backgrounds, and service in these important leadership posts signal their potential further promotion at the 20th Party Congress and beyond.
Furthermore, all the ethnic minority autonomous regions in which they serve have usually lagged far behind China's most prosperous and economically well-developed provinces and cities in terms of GDP growth. Although these ethnic minority leaders have traversed a range of career trajectories, in a way they each have benefited professionally and politically from serving in poor and peripheral areas. Hardship experience has long been valued in the CCP hierarchy and only looks to become more ingrained under Xi Jinping, whose policy agenda has focused on common prosperity. Therefore, any proper analysis of the future career prospects of this special elite group should take into consideration this important factor along with the other widely noted challenges that China confronts.