"If there is indeed a distinguishable process of acquiring power," wrote the renowned American political sociologist Barrington Moore, Jr., "the first sequence is often the attempt to distinguish" the rising elite group. The new elite's knowledge and expertise are often perceived as essential for the future development in new domestic and external environments. In present-day China, the rapid rise of the "cosmos club"—technocrats in power who have advanced their professional careers in the aerospace and aviation industries—has paralleled the country's rising aspiration to take on a prominent role in the international "space club."
A detailed look at the career paths and institutional associations of these emerging rocket scientists in China's national and provincial leadership is greatly needed. This analysis can shed valuable light on the important characteristics of this influential elite group in Xi's third term and beyond.
The coming-of-age of rocket scientists in political power
In the March 2021 issue of the Qiushi magazine—the propaganda organ of the Central Committee of the Chinese Communist Party (CCP)—Xi Jinping asserted that global technological innovation has recently entered an unprecedentedly intensive period. A technological revolution is reshaping both the global geopolitical landscape and the international economic structure. In his words, "science and technology have never had such a profound impact on the future and destiny of a country." Xi explicitly called for techno-nationalism—holding the "key core technologies in the Chinese own hands."
For Xi and the Chinese leadership, the aerospace industry is pivotal, partly because of its long tradition of uplifting public patriotic spirit and partly because of its inherent nature of fusing civilian and military developments. Furthermore, most officials in the "cosmos club" are trained rocket scientists, or in Xi's words, "strategic scientists."
For example, Hunan Party Secretary Zhang Qingwei (1961) previously served as deputy commander-in-chief of China's manned space project, responsible for the launch missions of Shenzhou-5 and Shenzhou-6 (2003-2005). Xinjiang Party Secretary Ma Xingrui (1959) previously served as deputy commander-in-chief of the Lunar Exploration Project (2004-2005), deputy commander-in-chief of China's Manned Space Engineering (2007-2008), and commander-in-chief of China's Lunar Exploration Project (2013). Zhejiang Party Secretary Yuan Jiajun (1962) was deputy commander-in-chief of the Shenzhou-1 spacecraft system in 1995 at the age of 33. Yuan also served as deputy commander-in-chief of the China Lunar Exploration Project (Phase II) from 2008-2012.
Some of these officials have also been instrumental in the development of China's aviation industry. Zhang Qingwei served as the CEO of the Commercial Aircraft Corporation of China (COMAC) and played a key role in building China's large commercial aircraft. These three rocket scientists are among the principal designers of China's aerospace and aviation programs over the recent two decades. Because of their accomplishments in space exploration, Zhang, Yuan, and Ma were all elected as academicians of the Paris-based prestigious International Academy of Astronautics in 2005, 2006, and 2007, respectively.
Not surprisingly, the research institutions and corporate enterprises in the aerospace and aviation industries through which these distinguished members of the "cosmos club" advanced their careers are seen as the "cradles of Party cadre training" (ganbu peixun yaolan), as described by a Chinese local newspaper in Shanghai in 2014. Among China's 96 flagship companies under the leadership of the State-owned Assets Supervision and Administration Commission (SASAC), known as yangqi in Chinese, 49 carry high status, which means that their chairs, Party secretaries, and presidents hold the same status as vice-minister level leaders. Among these 49 firms, as many as 17 (34.7 percent) are in (or closely related to) the aerospace and aviation industries, further highlighting the political gravity of their leaderships.
Key conglomerates in China's aerospace and aviation industries
China's aerospace sector originated in 1956 when the government established its first missile research institute, known as the Fifth Academy of the Ministry of National Defense. The Fifth Academy later broke away bureaucratically from the military system in 1965 and was renamed the Seventh Ministry of Machinery Industry. The Eighth Ministry of Machinery Industry (and its predecessor the Eighth Department of Machinery Industry prior to 1979) was responsible for tactical missile development during the mid-1960s and 1970s. In 1981, the Seventh Ministry absorbed the Eighth Ministry, and a year later, it became the Ministry of Aerospace Industry, responsible for managing the research, design, and production of rockets, missiles, and spacecraft.
In 1988, the Ministry of Aerospace Industry and the Ministry of Aviation Industry (the successor of the Third Ministry of Machinery Industry) merged into the Ministry of Aeronautics and Astronautics. In 1993, the State Council abolished the ministry during institutional reforms and established the China Aerospace Industry Corporation and the National Space Administration in its place. In 1999, the China Aerospace Industry Corporation was reorganized into the China Aerospace Science and Technology Corporation (CASC, zhongguo hangtian or hangtian keji in Chinese) and the China Aerospace Science and Industry Corporation (CASIC, zhongguo hangtian kegong or hangtian kegong in Chinese).
As for the aviation industry, the Aviation Industry Corporation of China (AVIC, hangkong gongye in Chinese) was established in 1951. As China's most important conglomerate in aviation development, AVIC develops and produces military equipment for the Air Force of the People's Liberation Army (PLA) as well as commercial aircraft. In 1999, along with its affiliated enterprises and institutions, AVIC split into China Aviation Industry Group No. 1 and China Aviation Industry Group No. 2. In 2008, these two groups were reorganized and reintegrated into AVIC.
Overall, these three big conglomerates––CASC, CASIC, and AVIC––constitute the key drivers of China's aerospace and aviation industries. They are found both among China's top 10 military-industrial complex companies and in the Fortune Global 500 list.
CASC currently undertakes the development, production, and launch test tasks for China's launch vehicles, application satellites, manned spacecraft, space stations, deep space exploration vehicles, strategic missiles, some tactical missiles, and other aerospace products as well as weapons systems. At present, CASC houses eight large-scale scientific research and production complexes (called "academies"), 11 specialized corporate firms, and 14 listed companies with a total of 174,000 employees in China and abroad.
CASIC has primarily engaged in developing launch vehicles and space technology products for Shenzhou spacecraft, the Tiangong space station, Chang'e lunar exploration, Beidou navigation networking, Tianwen fire detection, Kuaizhou rockets, the Tiankun-1 satellite, the Xingyun-2 01/02 satellite, and space station construction. CASIC currently has 23 secondary enterprises under its jurisdiction, holds eight listed companies, and retains 150,000 employees.
AVIC produces aviation equipment, military aircraft, transport aircraft, helicopters, and airborne equipment and systems. It also engages in aviation research, flight testing, trade logistics, asset management, engineering planning and construction, and automotive development. AVIC has over 100 firms under its jurisdiction, 25 listed companies, and 450,000 employees. Its global presence extends to 60 offices in 29 countries.
The instrumental role of research academies in China's space programs
A distinct feature of China's aerospace development is the instrumental role of the large-scale scientific research and production complexes (daxing keyan shengchan lianheti), known as "research academies" (yanjiuyuan). As discussed earlier, China's space program was born in the Fifth Academy of the Ministry of National Defense in the 1950s. Most important projects in aerospace and aviation development in China have been carried out in the "numbered research academies."
Table 1 provides an overview of the "numbered research academies" in China's aerospace industry. It should be noted that these names are originally informal and historical. They were commonly used in the early period of China's aerospace and aviation development, and people in the field have continued such practice. They should not be confused with some other more recently numbered research institutes within CASC, CASIC, AVIC, and other large conglomerates.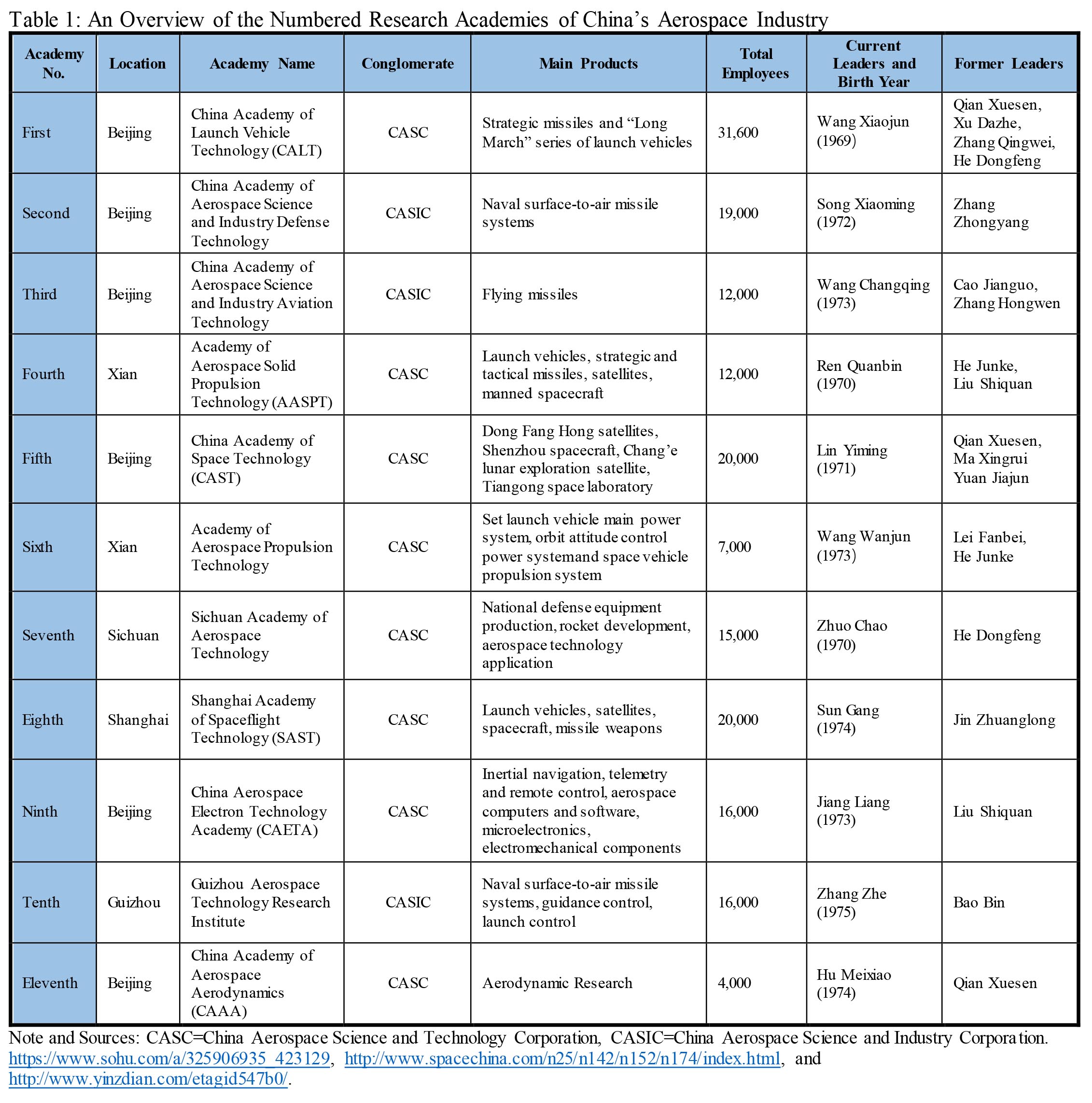 The table offers some important information about these 11 academies—their locations, formal names, main products, employees, and the names of their current and former leaders. Eight academies belong to CASC, and the other three fall under the administration of CASIC. These are all significantly large research and production entities. For example, the First Academy (the China Academy of Launch Vehicle Technology) has 31,000 staff members.
Most of these academies are headed by relatively younger leaders of the so-called post-1970s generation (7G), indicating that they are well-positioned for further promotion in the years to come. The former president of the Second Academy under CASIC, Zhang Zhongyang (1970), for example, was transferred early this year to CASC to serve as president.
Qian Xuesen, the "father of China's two bombs, one satellite," served as president of three academies (the First, the Fifth, and the Eleventh); in fact, he founded all three. Zhang Qingwei advanced his career at the First Academy (1988-1999), where he later served as vice president. Ma Xingrui served as vice president of the Fifth Academy in the late 1990s. Yuan Jiajun spent 23 years (1984-2007) in the Fifth Academy, where he was a master's degree student, engineer, director, assistant president, vice president, and president.
Some members of the "cosmos club" also have established strong political ties with each other. For example, Zhang Qingwei and He Dongfeng both worked extensively in the First Academy in the 1990s and later moved to become senior executives of COMAC. Between 2008 and 2011, when Zhang was chair and Party secretary of COMAC, He was vice president. In 2012, He became president, and since 2017, He has served as chair and Party secretary of COMAC.
The educational and work experience of prominent members of the "cosmos club"
Table 2 displays the educational background and work experience of the 20 most prominent members of the "cosmos club" in this study. The three universities attended by most are Beijing University of Aeronautics and Astronautics (known as Beihang), Northwestern Polytechnical University (NPU), and Harbin Institute of Technology (HIT). These schools are known for their strong programs in military technology. Very few of them studied at Nanjing University of Aeronautics and Astronautics (Nanhang), another top university in the field of aerospace and aviation, or Tsinghua University, which has been often regarded as China's MIT and has produced many technocrats in the leadership.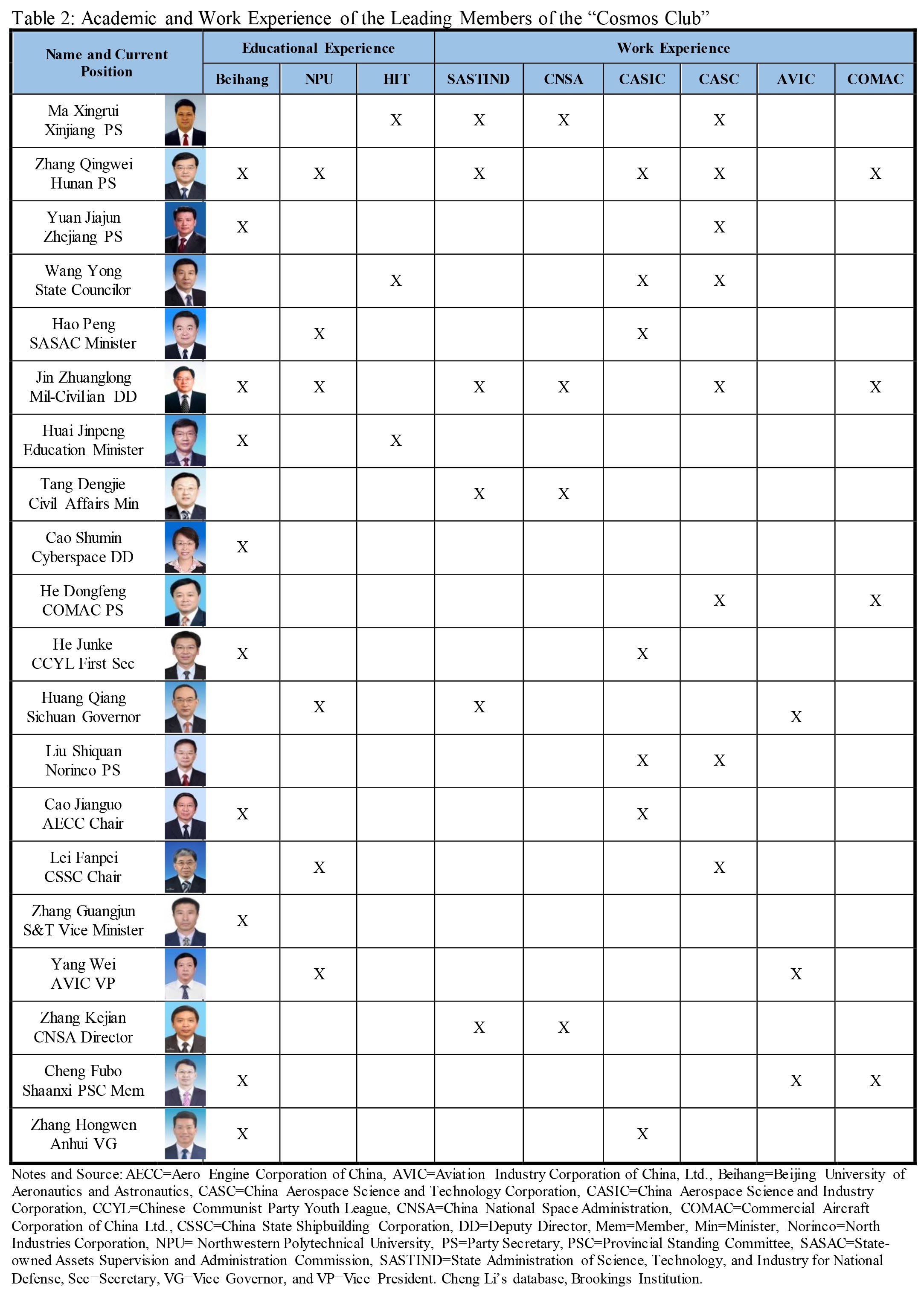 Vice President of AVIC Yang Wei (1963) attended NPU as an aerodynamics major in 1978 at the age of 15 and completed his master's degree studies in flight dynamics there. After graduation in 1985, he joined the Chengdu Aircraft Design and Research Institute. Yang is the chief designer of several generations of military aircraft, including the J-20 stealth fighter and the FC-1/JF-17 "Fierce Dragon" fighter.
While all these technocrats attended Chinese universities for formal education at both the undergraduate and advanced levels, a few of them also studied abroad, often as visiting scholars. Education Minister Huai Jinpeng (1962) was a senior visiting scholar at Columbia University between 1995 and 1996. Zhang Qingwei studied at the Japan International Space University as a visiting scholar in 1992. Yuan Jiajun was a research fellow at the Institute of Mechanical Mechanics of the German Academy of Aeronautics and Astronautics for 18 months from 1989 to 1990.
As for their work experience, several of them have served as ministerial-level leaders in the State Administration of Science, Technology, and Industry for National Defense (SASTIND) and the China National Space Administration (CNSA). Seven of the 20 leaders spent the earlier years of their careers at CASIC, and the other eight leaders advanced their professional careers through CASC. Three of them, Zhang Qingwei, Wang Yong, and Liu Shiquan, have leadership experience working in both conglomerates. Some have worked primarily in the aviation sector, three have worked at AVIC, and four have served as top leaders at COMAC.
The biographical and academic information regarding the leaders who have advanced through the aerospace and aviation industries may be sufficient to reveal their professional competence, but their political leadership for governing the country still needs to be tested. Local administrative experience, especially running crucial provinces and cities, can prove advantageous. Three leading rising stars of this group all have substantial provincial leadership experience—Ma Xingrui as Guangdong governor and Xinjiang Party secretary, Zhang Qingwei as Hebei governor, Heilongjiang Party secretary, and Hunan Party secretary, and Yuan Jiajun as Ningxia executive vice governor and Zhejiang governor and Party secretary.
Some Western observers such as billionaire entrepreneur Elon Musk believe that these Chinese rocket scientists-turned-political leaders, unburdened by ideology, will likely adopt a pragmatic and technocratic framework for solving problems. Some other critics, however, are suspicious about whether these technical and scientific qualifications would make them better leaders for a country confronting daunting sociopolitical challenges at home and an unconducive international environment abroad.
Nevertheless, these technocrats with expertise in China's space program will likely accelerate the country's integral civilian and military development, especially in terms of its competition with the United States in the years to come. This will be the focus of the next article in the series.